01.12.2012 | Research | Ausgabe 1/2012 Open Access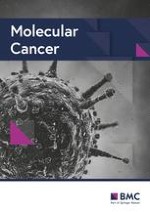 β3 integrin modulates transforming growth factor beta induced (TGFBI) function and paclitaxel response in ovarian cancer cells
Zeitschrift:
Autoren:

David A Tumbarello, Jillian Temple, James D Brenton
Wichtige Hinweise
Electronic supplementary material
The online version of this article (doi:
10.​1186/​1476-4598-11-36
) contains supplementary material, which is available to authorized users.
Competing interests
The authors declare they have no competing interests.
Authors' contributions
DAT designed and performed experiments, analysed the data, and wrote the manuscript. JT performed the cell titre glo cell viability assay. JDB conceived of the study and wrote the manuscript. All authors read and approved the final manuscript.
Abstract
Background
The extracellular matrix (ECM) has a key role in facilitating the progression of ovarian cancer and we have shown recently that the secreted ECM protein TGFBI modulates the response of ovarian cancer to paclitaxel-induced cell death.
Results
We have determined TGFBI signaling from the extracellular environment is preferential for the cell surface αvβ3 integrin heterodimer, in contrast to periostin, a TGFBI paralogue, which signals primarily via a β1 integrin-mediated pathway. We demonstrate that suppression of β1 integrin expression, in β3 integrin-expressing ovarian cancer cells, increases adhesion to rTGFBI. In addition, Syndecan-1 and −4 expression is dispensable for adhesion to rTGFBI and loss of Syndecan-1 cooperates with the loss of β1 integrin to further enhance adhesion to rTGFBI. The RGD motif present in the carboxy-terminus of TGFBI is necessary, but not sufficient, for SKOV3 cell adhesion and is dispensable for adhesion of ovarian cancer cells lacking β3 integrin expression. In contrast to TGFBI, the carboxy-terminus of periostin, lacking a RGD motif, is unable to support adhesion of ovarian cancer cells. Suppression of β3 integrin in SKOV3 cells increases resistance to paclitaxel-induced cell death while suppression of β1 integrin has no effect. Furthermore, suppression of TGFBI expression stimulates a paclitaxel resistant phenotype while suppression of fibronectin expression, which primarily signals through a β1 integrin-mediated pathway, increases paclitaxel sensitivity.
Conclusions
Therefore, different ECM components use distinct signaling mechanisms in ovarian cancer cells and in particular, TGFBI preferentially interacts through a β3 integrin receptor mediated mechanism to regulate the response of cells to paclitaxel-induced cell death.