28.11.2016 | Original Article | Ausgabe 1/2017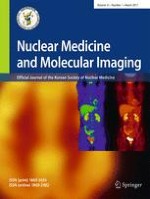 18F-FDG PET/CT for the Diagnosis of Malignant and Infectious Complications After Solid Organ Transplantation
Zeitschrift:
Autoren:

Nastassja Muller, Romain Kessler, Sophie Caillard, Eric Epailly, Fabrice Hubelé, Céline Heimburger, Izzie-Jacques Namer, Raoul Herbrecht, Cyrille Blondet, Alessio Imperiale
Abstract
Purpose
Infection and malignancy represent two common complications after solid organ transplantation, which are often characterized by poorly specific clinical symptomatology. Herein, we have evaluated the role of 18F-fluoro-2-deoxy-D-glucose (FDG) positron emission tomography/computed tomography (PET/CT) in this clinical setting.
Methods
Fifty-eight consecutive patients who underwent FDG PET/CT after kidney, lung or heart transplantation were included in this retrospective analysis. Twelve patients underwent FDG PET/CT to strengthen or confirm a diagnostic suspicion of malignancies. The remaining 46 patients presented with unexplained inflammatory syndrome, fever of unknown origin (FUO), CMV or EBV seroconversion during post-transplant follow-up without conclusive conventional imaging. FDG PET/CT results were compared to histology or to the finding obtained during a clinical/imaging follow-up period of at least 6 months after PET/CT study.
Results
Positive FDG PET/CT results were obtained in 18 (31 %) patients. In the remaining 40 (69 %) cases, FDG PET/CT was negative, showing exclusively a physiological radiotracer distribution. On the basis of a patient-based analysis, FDG PET/CT's sensitivity, specificity, PPV and NPV were respectively 78 %, 90 %, 78 % and 90 %, with a global accuracy of 86 %. FDG PET/CT was true positive in 14 patients with bacterial pneumonias (n = 4), pulmonary fungal infection (n = 1), histoplasmosis (n = 1), cutaneous abscess (n = 1), inflammatory disorder (sacroiliitis) (n = 1), lymphoma (n = 3) and NSCLC (n = 3). On the other hand, FDG PET/CT failed to detect lung bronchoalveolar adenocarcinoma, septicemia, endocarditis and graft-versus-host disease (GVHD), respectively, in four patients. FDG PET/CT contributed to adjusting the patient therapeutic strategy in 40 % of cases.
Conclusions
FDG PET/CT emerges as a valuable technique to manage complications in the post-transplantation period. FDG PET/CT should be considered in patients with severe unexplained inflammatory syndrome or FUO and inconclusive conventional imaging or to discriminate active from silent lesions previously detected by conventional imaging particularly when malignancy is suspected.