10.11.2017 | Original Article | Ausgabe 3/2018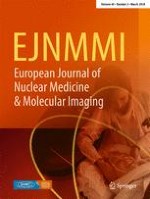 18F–fluorodeoxyglucose uptake of hepatocellular carcinoma as a prognostic predictor in patients with sorafenib treatment
Autoren:

Pil Soo Sung, Hye Lim Park, Keungmo Yang, Seawon Hwang, Myeong Jun Song, Jeong Won Jang, Jong Young Choi, Seung Kew Yoon, Ie Ryung Yoo, Si Hyun Bae
Wichtige Hinweise
Electronic supplementary material
Pil Soo Sung and Hye Lim Park contributed equally to this work.
Abstract
Purpose
Sorafenib, an oral multikinase inhibitor, is a recommended treatment option available for patients with Barcelona Clinic Liver Cancer (BCLC)-C stage hepatocellular carcinoma (HCC). This study aimed to evaluate the performance of 18F–fluorodeoxyglucose positron emission tomography (18F–FDG PET) for predicting tumour progression during sorafenib treatment.
Methods
We formed a retrospective cohort comprising patients treated with sorafenib for at least 30 days and undergoing 18F–FDG PET/CT within 1 month before treatment. For statistical analyses, the tumour-to-liver standardised uptake value (SUV) ratio (TLR) of the most hypermetabolic lesion was measured.
Results
Among a total of 35 patients, two obtained partial remission, and 11 showed stable disease after the first response evaluation. Patients with a TLR ≥ 2.9 (
n
= 17) had a median overall survival (OS) of 3.7 months after sorafenib treatment, whereas patients with a TLR < 2.9 (
n
= 18) had median OS of 12.2 months (
P
< 0.001), although the disease control rate was not significantly different between the two groups. Pretreatment TLR ≥ 2.9 (hazard ratio [HR] = 6.318,
P
= 0.002) and Child-Pugh class B (HR = 4.316,
P
= 0.044) were poor prognostic factors for OS, and a TLR ≥ 2.9 (HR = 2.911,
P
= 0.024) was the only poor prognostic factor for progression-free survival in a multivariate analysis.
Conclusion
Pretreatment tumour metabolic activity assessed by 18F–FDG PET is an independent prognostic factor for survival in patients with BCLC-C stage HCC receiving sorafenib monotherapy, although it may not predict tumour response to the treatment.