01.01.2009 | Symposium: Papers Presented at the Hip Society Meetings 2008 | Ausgabe 1/2009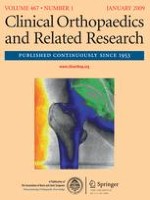 2008 John Charnley Award: Metal Ion Levels After Metal-on-Metal Total Hip Arthroplasty:
A Randomized Trial
Zeitschrift:
Autoren:

MD C. Anderson Engh Jr., MD Steven J. MacDonald, MPH Supatra Sritulanondha, RN Abigail Thompson, MD Douglas Naudie, MD Charles A. Engh
Wichtige Hinweise
The institution of one or more of the authors (CAE Jr, SS, CAE) has received funding from Inova Health Services (Fairfax, VA). One or more of the authors (CAE Jr, SJM, CAE) has received funding from DePuy Orthopaedics (Warsaw, IN) for this study. The authors have an agreement with the sponsor (DePuy Orthopaedics) that allows them to review all data before submission.
Each author certifies that his or her institution has approved the human protocol for this investigation, that all investigations were conducted in conformity with ethical principles of research, and that informed consent for participation in the study was obtained.
Abstract
Metal-on-metal bearing total hip arthroplasty is performed more commonly than in the past. There may be manufacturing differences such as clearance, roughness, metallurgy, and head size that affect performance. In a prospective, randomized trial, we compared 2-year postoperative ion levels for a 28-mm metal-on-polyethylene bearing with 28-mm and 36-mm metal-on-metal bearings. We measured serum, erythrocyte, and urine ion levels. We observed no difference in the ion levels for the 28-mm and 36-mm metal-on-metal bearings. The ion levels in these patients were lower than reported for most other metal-on-metal bearings. Although both erythrocyte and serum cobalt increased, erythrocyte chromium and erythrocyte titanium did not increase despite a four- to sixfold serum chromium and a three- to fourfold serum titanium increase. This may represent a threshold level for serum chromium and serum titanium below which erythrocytes are not affected.
Level of Evidence:
Level I, therapeutic study. See the Guidelines for Authors for a complete description of levels of evidence.