01.12.2018 | Research article | Ausgabe 1/2018 Open Access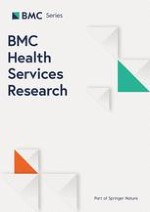 24-hour access outpatient clinic for patients with exacerbation of chronic disease: a before-after cohort study of differences in acute healthcare utilisation
Zeitschrift:
Autoren:

Anders Damgaard Møller, David Høyrup Christiansen, Cathrine Bell, Ulrich Fredberg, Peter Vedsted
Abstract
Background
Chronic diseases are becoming more common due to an increasing ageing population. Patients with chronic conditions managed in outpatient clinics account for a large share of healthcare costs. We developed a 24-h access outpatient clinic offering 24-h telephone support and triaged access to the hospital for patients with acute exacerbation of four selected chronic diseases. The aim of this study was to conduct a 1-year before-after study of the acute healthcare utilisation in patients offered the 24-h access outpatient clinic intervention.
Methods
The study was conducted as an observational register-based cohort study. Data from the patient administrative register and the Danish National Health Service Register were extracted 12 months before and 12 months after implementation of the 24-h access intervention. Patients with chronic obstructive pulmonary disease, chronic liver disease, inflammatory bowel disease and heart failure managed in hospital outpatient clinics were enrolled in the study. Differences in healthcare utilisation were analysed for all patients, including the subgroup of high-risk patients with at least one acute admission in the year before enrolment.
Results
Length-of-stay remained unchanged for all diagnostic groups, except for patients with heart failure in whom a statistically significant reduction was observed. Statistically significant reductions of length of stay and acute admissions were observed in all high-risk groups, except for patients with chronic liver disease. A statistically significant reduction in the number of contacts to out-of-hours primary care was seen in patients with chronic obstructive pulmonary disease, whereas the level remained unchanged in the other diagnostic groups. Similar patterns were also seen in high-risk patients.
Conclusions
The 24-h access outpatient clinic did not increase the use of acute healthcare services inpatients with chronic disease. Significant reductions in hospital utilisation were seen in high-risk patients. These preliminary results should be interpreted with caution due to the observational before-after design of the study.