01.12.2015 | Research article | Ausgabe 1/2015 Open Access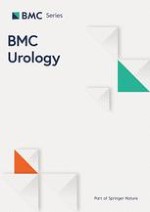 3D vs 2D laparoscopic radical prostatectomy in organ-confined prostate cancer: comparison of operative data and pentafecta rates: a single cohort study
Zeitschrift:
Autoren:

Pierluigi Bove, Valerio Iacovelli, Francesco Celestino, Francesco De Carlo, Giuseppe Vespasiani, Enrico Finazzi Agrò
Wichtige Hinweise
Competing interests
The authors declared that they have no competing interests.
Authors' contributions
PB carried out the surgical procedures and drafted the manuscript. VI carried out the surgical procedures as assistant and drafted the manuscript. FC carried out the surgical procedures as assistant and participated in the design of the study. FDC collected all the data and performed the statistical analysis. GV carried out the surgical procedures. EFA conceived the study, participated in its design and coordination and helped to draft the manuscript. All authors read and approved the final manuscript.
Abstract
Background
Currently, men are younger at the time of diagnosis of prostate cancer and more interested in less invasive surgical approaches (traditional laparoscopy, 3D-laparoscopy, robotics). Outcomes of continence, erectile function, cancer cure, positive surgical margins and complication are well collected in the pentafecta rate. However, no comparative studies between 4th generation 3D-HD vision system laparoscopy and standard bi-dimensional laparoscopy have been reported. This study aimed to compare the operative, perioperative data and pentafecta rates between 2D and 3D laparoscopic radical prostatectomy (LRP) and to identify the actual role of 3D LRP in urology.
Methods
From October 2012 to July 2013, 86 patients with clinically localized prostate cancer [PCa: age ≤ 70 years, prostate-specific antigen (PSA) ≤ 10 ng/ml, biopsy Gleason score ≤ 7] underwent laparoscopic extraperitoneal radical prostatectomy (LERP) and were followed for approximately 14 months (range 12–25). Patients were selected for inclusion via hospital record data, and divided into two groups. Their patient records were then analyzed. Patients were randomized into two groups: the former 2D-LERP (43 pts) operated with the use of 2D-HD camera; the latter 3D-LERP (43 pts) operated with the use of a 3D-HD 4th generation view system. The operative and perioperative data and the pentafecta rates between 2D-LERP and 3D-LERP were compared.
Results
The overall pentafecta rates at 3 months were 47.4% and 49.6% in the 2D- and 3D-LERP group respectively. The pentafecta rate at 12 months was 62.7% and 67% for each group respectively. 4th generation 3D-HD vision system provides advantages over standard bi-dimensional view with regard to intraoperative steps. Our data suggest a trend of improvement in intraoperative blood loss and postoperative recovery of continence with the respect of the oncological safety.
Conclusions
Use of the 3D technology by a single surgeon significantly enhances the possibility of achieving better intraoperative results and pentafecta in all patients undergoing LERP. Potency was the most difficult outcome to reach after surgery, and it was the main factor leading to pentafecta failure. Nevertheless, further studies are necessary to better comprehend the role of 3D-LERP in modern urology.