01.12.2017 | Research article | Ausgabe 1/2017 Open Access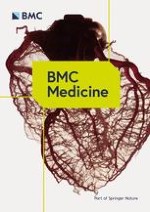 A 13-gene expression-based radioresistance score highlights the heterogeneity in the response to radiation therapy across HPV-negative HNSCC molecular subtypes
Zeitschrift:
Autoren:

Jean-Philippe Foy, Louis Bazire, Sandra Ortiz-Cuaran, Sophie Deneuve, Janice Kielbassa, Emilie Thomas, Alain Viari, Alain Puisieux, Patrick Goudot, Chloé Bertolus, Nicolas Foray, Youlia Kirova, Pierre Verrelle, Pierre Saintigny
Wichtige Hinweise
Electronic supplementary material
The online version of this article (doi:
10.​1186/​s12916-017-0929-y
) contains supplementary material, which is available to authorized users.
Abbreviations
EMT
epithelial-to-mesenchymal transition
ES
enrichment score (computed using single sample Gene Set Enrichment Analysis)
HNSCC
head and neck squamous cell carcinomas
IC50
half maximal inhibitory concentration (a measure of drug sensitivity)
SF2
survival fraction at 2 Gy (a measure of radiosensitivity)
ssGSEA
single sample gene set enrichment analysis (for computing an enrichment score of a gene set in a unique sample)
TCGA
The Cancer Genome Atlas (Public repository)
UPR
unfolded protein response
Background
Head and neck squamous cell carcinoma (HNSCC) is the sixth most common cancer worldwide and the second smoking-related cancer after lung carcinoma [
1
]. Management of HNSCC is challenging due to the high morbidity and mortality of surgery and radiotherapy [
2
]. Although intensity-modulated radiotherapy has greatly improved the quality of life of patients [
3
], especially by decreasing the incidence of early acute and late grade xerostomia [
4
], the identification of biomarkers that may help tailor radiotherapy is needed.
Several approaches have been used to predict the tumor response to radiotherapy, including functional assays (clonogenic cell survival [
5
] or DNA repair [
6
]) or omics-based biomarkers [
3
,
7
–
10
]. The latter have been identified in cancer cell lines and their expression in normal cells has not been evaluated. Tumor samples from patients harbor a diverse range of stromal/normal cells that alter the tumor purity, which is known to influence the biological interpretation of results generated from genomic approaches [
11
–
13
]. Therefore, the potential impact of normal tissue contaminating the tumor sample on intrinsic radioresistance has to be considered.
Oropharyngeal human papillomavirus (HPV)-positive HNSCC are associated with an increased radiosensitivity and a favorable outcome compared to HPV-negative HNSCC [
14
–
16
]. De-escalation strategies are currently being evaluated in clinical trials in this setting [
17
,
18
]. The higher radiosensitivity of HPV-positive HNSCC may be due to a more effective cytotoxic T-cell-related antitumor immune response [
19
], as well as specific molecular alterations, such as p16 overexpression, that decrease DNA repair by inhibiting the recruitment of RAD51 to the site of DNA damage [
20
]. In HPV-negative HNSCC, the epithelial-to-mesenchymal transition (EMT) via overexpression of fibronectin 1 (FN1), as well as activation of the epidermal growth factor receptor (
EGFR
) have been implicated in HNSCC radioresistance [
9
,
21
–
23
]. Genome-wide expression profiling of a large number of HNSCC led to the identification of four robust molecular classes of HNSCC [
24
–
26
]. In this classification, the "classical", "basal" and "mesenchymal" subtypes exhibit canonical genomic alterations such as focal
EGFR
amplification, high frequency of
HRAS
mutations, and upregulation of EMT-related genes, respectively [
25
,
26
]. Therefore, it is tempting to hypothesize that these HNSCC classes are more radioresistant compared to the "atypical" class characterized by the lack of
EGFR
amplification and enriched in HPV-positive tumors. Of note, a significant proportion of HNSCC in the "atypical" subtype are HPV-negative and the radiosensitivity of these tumors is unknown.
In this work, we made use of gene expression profiles available in public repositories to define a 13-gene expression-based radioresistance (RadR) score in HPV-negative HNSCC and evaluate its association with the current molecular classification, known recurrent genomic alterations in HNSCC, protein expression, biological hallmarks, and patterns of drug sensitivity in vitro. We found the RadR score to be (1) associated with poor disease free-survival (DFS) in HPV-negative HNSCC patients treated by surgery and radiotherapy (with or without chemotherapy) but not in patients treated with surgery alone; (2) lower in the HPV-negative atypical molecular subtype and higher in the mesenchymal subtype; and (3) significantly associated with
CCND1
amplification, fibronectin expression and seven biological hallmarks, including the ENT and the actionable "unfolded protein response" hallmarks. Current molecular classification of HNSCC and the RadR score may help to tailor radiotherapy in HPV-negative HNSCC.
Methods
No ethical approval was needed for this study.
Results
Discussion
Conclusion
We report a 13-gene expression-based RadR score that is associated with specific molecular features of HPV-negative HNSCC. To the best of our knowledge, our study is the first report suggesting the clinical relevance of the molecular classification of HNSCC in order to refine radiation strategies. The predictive value of the RadR score needs to be validated in larger retrospective and prospective cohorts. Our work is hypothesis-generating for the refinement of combination therapies of radiation with modulators of EMT-driven cancer cell plasticity or of the UPR pathway.
Acknowledgements
We acknowledge Vonn Andrew Walter (Lineberger Comprehensive Cancer Center, University of North Carolina at Chapel Hill, Chapel Hill, North Carolina), who kindly provided us information on the molecular subtype for the 518 tumors from TCGA.
Funding
PS: LYric Grant INCa-DGOS-4664; J-PF was supported by fellowship grants "
Année recherché
" from Assistance Publique Hôpitaux de Paris (2015–2016) and "
Soutien pour la formation à la recherche translationnelle en cancérologie
" from INCa and AVIESAN (2016–2017).
Availability of data and materials
The datasets analyzed during the current study are available from public repositories: CellMiner TM database version 2.1 (NCI-60), Gene Expression Omnibus (GSE79368; GSE21644; GSE6631; GSE39366; GSE69858), Array Express (E-MTAB-3610), and The Cancer Genome Atlas.
Ethics approval and consent to participate
Not applicable.
Consent for publication
Not applicable.
Competing interests
The authors declare that they have no competing interests.
Publisher's Note
Springer Nature remains neutral with regard to jurisdictional claims in published maps and institutional affiliations.
Open Access
This article is distributed under the terms of the Creative Commons Attribution 4.0 International License (
http://​creativecommons.​org/​licenses/​by/​4.​0/​
), which permits unrestricted use, distribution, and reproduction in any medium, provided you give appropriate credit to the original author(s) and the source, provide a link to the Creative Commons license, and indicate if changes were made. The Creative Commons Public Domain Dedication waiver (
http://​creativecommons.​org/​publicdomain/​zero/​1.​0/​
) applies to the data made available in this article, unless otherwise stated.