01.12.2018 | Case report | Ausgabe 1/2018 Open Access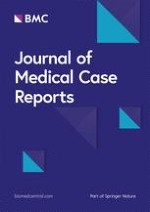 A 2-year-old girl with chronic crackles after respiratory syncytial virus infection: a case report
Zeitschrift:
Autoren:

Katarzyna Woicka-Kolejwa, Henryk Mazurek, Iwona Stelmach
Abstract
Background
Respiratory syncytial virus is the most common cause of lower respiratory tract infections in infants and young children. While the majority of infants display only mild upper respiratory tract infection or occasionally otitis media, around one-third will develop an infection of the lower respiratory tract, usually bronchiolitis. There is now convincing evidence from a number of cohorts that respiratory syncytial virus is a significant, independent risk factor for later wheezing, at least within the first decade of life. The wide variation in response to respiratory syncytial virus infection suggests that susceptibility and disease are influenced by multiple host-intrinsic factors.
Case presentation
A 2-year-old white girl presented to our Pediatric Allergy Clinic with recurrent crackles in addition to cough, fevers, and labored breathing since her first respiratory syncytial virus infection at the age of 7 months. She had been under the care of pulmonologists, who suspected childhood interstitial lung disease. She was hospitalized eight times due to exacerbation of symptoms and prescribed systemic and inhaled steroids, short-acting β2-mimetics, and antileukotriene. There was no short-term clinical improvement at that time between hospitalizations.
During her hospital stay at the Pneumonology and Cystic Fibrosis Department in Rabka a bronchoscopy with bronchoalveolar lavage was performed. Laboratory bacteriological tests found high colony count of
Moraxella catarrhalis
(β-lactamase positive), sensitive to amoxicillin-clavulanate, in bronchial secretions and swabs from her nose. After this, infections were treated with antibiotics; she remained in good condition without symptoms. Crackles and wheezing recurred only during symptoms of infections. Therefore, we hypothesize that respiratory syncytial virus infection at an early age might cause severe damage of the lung epithelium and prolonged clinical symptoms, mainly crackles and wheezing, each time the child has a respiratory infection.
Conclusions
This case illustrates the importance of respiratory syncytial virus infection in an immunocompetent child. Pediatricians need to have a high index of suspicion and knowledge of recurrent symptoms associated with severe damage of the lung epithelium to establish the correct diagnosis.