01.12.2017 | Review | Ausgabe 1/2017 Open Access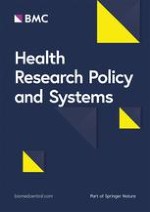 A 30-year bibliometric analysis of research coverage on HIV and AIDS in Lesotho
Zeitschrift:
Autoren:

Eltony Mugomeri, Bisrat S. Bekele, Mamajoin Mafaesa, Charles Maibvise, Clemence Tarirai, Sunny E. Aiyuk
Abstract
Background
Given the well documented undesired impacts of HIV/AIDS globally, there is a need to create a statistical inventory of research output on HIV/AIDS. This need is particularly important for a country such as Lesotho, whose HIV/AIDS prevalence is one of the highest globally. Research on HIV/AIDS in sub-Saharan Africa continues to trail behind that of other regions, especially those of the developed countries. Lesotho, a sub-Saharan country, is a developing country with lower research output in this area when longitudinally compared to other countries. This study reviewed the volume and scope of the general research output on HIV/AIDS in Lesotho and assessed the coverage of the national research agenda on HIV/AIDS, making recourse to statistical principles.
Methods
A bibliometric review of studies on HIV/AIDS retrieved from the SCOPUS and PubMed databases, published within the 30-year period between 1985 and 2016, was conducted. The focus of each of the studies was analysed and the studies were cross-matched with the national research agenda in accordance with bibliometric methodologies.
Results
In total, 1280 studies comprising 1181 (92.3%) journal articles, 91 (7.1%) books and 8 (0.6%) conference proceedings were retrieved. By proportion, estimation of burden of infection (40.7%) had the highest research volume, while basic (5.5%) and preventive measures (24.4%) and national planning (29.4%) had the lowest. Out of the total studies retrieved, only 516 (40.3%) matched the national research agenda. Research on maternal and child health quality of care, viral load point-of-care devices, and infant point-of-care diagnosis had hardly any publications in the high priority research category of the agenda.
Conclusion
Notwithstanding a considerable research output on HIV/AIDS for Lesotho, there is insufficient coverage of the national research agenda in this research area. The major research gaps on general research output are in basic and preventive measures as well as national planning. There is also a need to increase targeted funding for HIV/AIDS research to appropriately address the most compelling gaps and national needs.