01.12.2018 | Case report | Ausgabe 1/2018 Open Access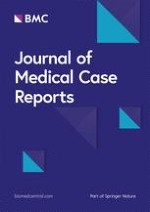 A 37-year-old Nigerian woman with Apert syndrome – medical and psychosocial perspectives: a case report
Zeitschrift:
Autoren:

M. A. Kana, T. S. Baduku, H. Bello-Manga, A. S. Baduku
Abstract
Background
Apert syndrome is a rare genetic disease that presents a diagnostic dilemma because of its similarity with other craniosynostosis syndromes. Currently, there is paucity of reports about adult patients in African medical literature. Therefore, this case report highlights medical and psychosocial problems associated with the disease in an adult woman who is resident in a resource-constrained setting.
Case presentation
Our patient is a 37-year-old African woman. She had abnormal characteristics of the skull, face, and extremities that were detected at birth. She is clinically stable but moderately depressed as an adult. Mutation in fibroblast growth factor receptor 2 (Ser252Trp) was positive. Her physical deformities and the laboratory findings confirmed the diagnosis of Apert syndrome. She missed opportunities for vital interventions to limit the physical and psychosocial effects of the disease, especially during early growth and developmental period, mainly due to the inadequacy of the institutions offering medical and psychosocial support. As a child she did not complete formal education or acquire vocational skills even though intellectual disability was never established. During adulthood she became socially deprived owing to her physical features and educational handicap. Her lifelong dependency is an unfortunate social consequence starting with developmental challenges encountered during childhood and worsened by adult social maladjustment.
Conclusions
Our patient does not have medically life-threatening features but was depressed. We recommend strengthening of institutions for early medical intervention and lifetime psychosocial support to limit physical and psychosocial effects of Apert syndrome among adult survivors in resource-limited settings.