01.12.2017 | Research article | Ausgabe 1/2017 Open Access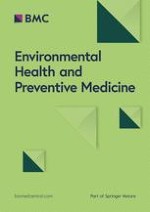 A behavioral strategy to minimize air pollution exposure in pregnant women: a randomized controlled trial
Zeitschrift:
Autoren:

Marzieh Araban, Sedigheh Sadat Tavafian, Saeed Motesaddi Zarandi, Ali Reza Hidarnia, Andrea Burri, Ali Montazeri
Abstract
Background
Pregnant women and their fetus belong to a sensitive group in response to air pollution hazards. The aim of this study was to evaluate the effectiveness of a theory-based educational program to change pollution exposure behavior in pregnant women.
Methods
In this randomized controlled trial, pregnant women attending a prenatal clinic in Tehran, Iran were selected and randomized into the experimental and control groups. The inclusion criteria were age between 18 and 35 years, having a history of pregnancies without adverse outcomes and not suffering from chronic diseases. Data collected at baseline and 2-month follow-up. At baseline face-to-face interviews were conducted using a valid and reliable questionnaire including items on demographic characteristics, stages of change, self-efficacy, decisional balance and practice regarding air pollution preventive behaviors. The intervention composed of three parts: motivational interviewing, a booklet and daily small message service (SMS). The control group received no intervention except receiving usual care. Follow-up data were collected after the intervention. Data were analyzed performing t-test, Mann–Whitney U test, and chi-squared.
Results
In all the data for 104 pregnant women (53 in the intervention and 51 in the control group) were analyzed. The mean age of participants was 27.2 (SD = 4.11) years and it was 22.89 (SD = 8.75) weeks for gestational age. At baseline there were no significant statistical differences between intervention and control groups on the study measures while we found significant group differences in terms of stages of change, self-efficacy, perceived benefits and practice regarding air pollution preventive behaviors at follow-up assessment (
P
 < 0.05).
Conclusion
The findings indicated that the TTM-based intervention was effective in increasing air pollution preventive behaviors among pregnant women. This study provided a framework to modify some psychosocial determinants of air pollution preventive behavior other than knowledge using constructs of Transtheoretical model of behavior change, additionally results suggests the importance of education and makes enlightenment of the air pollution risk knowledge accelerate.
Trial registration