14.02.2018 | Original Article | Ausgabe 1/2019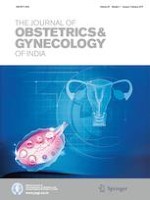 A Call for Eminence Obstetrics Care by Way of "Neonatal Near Miss" Events (NNM): A Hospital-Based Case–Control Study
Zeitschrift:
Autoren:

Bhavesh D. Shroff, Nittal H. Ninama
Wichtige Hinweise
Dr. Bhavesh D. Shroff is an Assistant Professor in Department of Community Medicine at Medical College Baroda, Vadodara, Gujarat, India; Dr. Nittal H. Ninama is an LMO in Department of Community Medicine at GMERS Medical College, Himmatnagar, Gujarat, India.
Abstract
Background
A neonatal near miss (NNM) case would refer to an infant who nearly died but survived during birth or within 28 days of extra-uterine life. The near miss concept is being increasingly used as a tool to evaluate and improve the quality of care, especially obstetric care. All "near miss" should be inferred as free lesson and opportunities to improve the quality of service endowment.
Methods
A hospital based case control study was conducted in a tertiary care hospital of central Gujarat to measure factors associated with NNM events. Mothers of those newborns, who had been admitted for critical care, and survived, were included as cases, after their discharge. Controls were selected from same settings who were not falling into defined criteria of NNM. Various antenatal factors were compared among the two groups.
Results
The number of neonatal near miss events were 291 (109 newborns with birth weight less than 1500 g, 169 APGAR score <7 and 13 with gestational age <30 weeks). The neonatal near miss rate was 86.7 per 1000 live births. Less number of antenatal visits, history of referral and hospitalisation during ante natal period were adversely associated with near miss events.
Conclusions
Incorporation of near miss events into the confidential enquiry system is worthwhile for corrective interventions like quality antenatal care, timely screening and referral of pregnant women into the primary health care system.