08.10.2019 | Original Article | Ausgabe 11/2019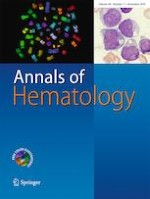 A CARD9 single-nucleotide polymorphism rs4077515 is associated with reduced susceptibility to and severity of primary immune thrombocytopenia
Zeitschrift:
Autoren:

Zi Sheng, Ju Li, Yuanjian Wang, Song Li, Ming Hou, Jun Peng, Qi Feng
Wichtige Hinweise
Publisher's note
Springer Nature remains neutral with regard to jurisdictional claims in published maps and institutional affiliations.
Abstract
Primary immune thrombocytopenia (ITP) is an acquired autoimmune disease characterized by a low platelet count and consequent increased risk of bleeding. The etiology underlying this condition remains poorly understood. The aim of this study is to evaluate the association of a single nucleotide polymorphism (SNP) rs4077515 in the caspase recruitment domain-containing protein 9 (CARD9) gene with the pathogenesis and therapy of ITP. Two hundred ninety-four patients with ITP and 324 age-matched healthy participants were recruited in this case-control study. Genotyping of CARD9 rs4077515 polymorphism was performed by Sanger sequencing. Our results revealed that a polymorphism rs4077515 in CARD9 gene is associated with decreased risk of susceptibility to and severity of ITP (susceptibility: codominant, AA vs. GG, OR = 0.175, 95% CI = 0.054-0.776,
p
= 0.001; recessive, GG + AG vs. AA, OR = 6.183, 95% CI = 2.287–16.715,
p
< 0.001; severity: allele, A vs. G, OR = 0.685, 95% CI = 0.476–0.985,
p
= 0.041; codominant, AG vs. GG, OR = 0.571, 95% CI = 0.350–0.931,
p
= 0.025; dominant, AA + AG vs. GG, OR = 0.558, 95% CI = 0.343–0.907,
p
= 0.019). The existence of the allele A, the mutant AA genotype and the heterozygous AG genotype of CARD9 rs4077515, plays a protective role in ITP. However, CARD9 rs4077515 polymorphism had no effect on corticosteroid sensitivity or refractoriness of ITP.