01.12.2018 | Case report | Ausgabe 1/2018 Open Access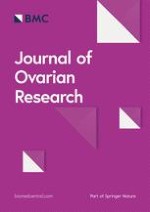 A case of ovarian clear cell carcinoma arising from ovarian mature cystic teratoma
Zeitschrift:
Autoren:

Kazuya Maeda, Yoshito Terai, Shinichi Terada, Hiroshi Maruoka, Yuhei Kogata, Keisuke Ashihara, Yoshimichi Tanaka, Tomohito Tanaka, Hiroshi Sasaki, Satoshi Tsunetoh, Takashi Yamada, Masahide Ohmichi
Abstract
Background
It is well known that ovarian mature cystic teratomas (MCTs) occasionally go through malignant transformations. Among these, approximately 75% of histological types are squamous cell carcinoma, with the other types being exceptionally rare. We report an extremely rare case of ovarian clear cell carcinoma arising from ovarian mature cystic teratoma.
Case presentation
The case was a 71-year-old woman with abdominal distention. Ultrasonography and magnetic resonance imaging showed a huge mass in her abdominal cavity. Fluorodeoxyglucose-positron emission tomography (FDG-PET) showed FDG uptake not only in the pelvic tumor but also in the hepatic nodule, thus suggesting metastases. We performed a total abdominal hysterectomy, bilateral salpingo-oophorectomy, and an omentectomy. The pathological diagnosis showed clear cell carcinoma of the right ovary which arose from the MCT with malignant transformation pT2aNXM1. Although the patient underwent chemotherapy, she died after 17 months.
Conclusion
This case is histologically characteristic of the proof of transition from simple squamous epithelium via simple glandular epithelium to papillary change with atypia. This is the first case report of unaccompanied clear cell carcinoma arising from MCT reported in English literatures.