17.07.2018 | Case Report | Ausgabe 12/2018 Open Access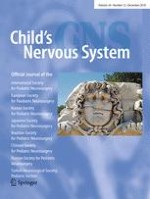 A case of symmetric retrograde thromboembolic cerebral infarction in an 8-year-old child due to arterial thoracic outlet syndrome
Zeitschrift:
Autoren:

Jolanta Strzelecka, Tymon Skadorwa, Milena Franckiewicz, Sergiusz Jóźwiak
Introduction
Arterial thoracic outlet syndrome (aTOS) is an extremely rare cause of embolic stroke in children [
4
]. A symptomatic compression of the subclavian artery (SA) may result from the osteo-musculo-vascular conflict provoked by a supernumerary rib, arising from C7 vertebra [
11
]. It usually presents with symptoms secondary to SA stenosis and subsequent antegrade embolization, such as loss of peripheral pulse, paresthesias in the hand, claudication, or digits ischemia [
15
]. Retrograde thromboembolic phenomenon may reveal during overhead abduction of the arm, which favors the occlusion of SA and promotes the occurrence of carotid or vertebrobasilar stroke [
2
,
6
].
Several papers have been published about the symptomatology of retrograde stroke, some of them refer to pediatric population, but none of reported cases presented with symmetric infarctions due to aTOS in the first decade of life.
Case report
A series of tests towards the diagnosis of metabolic, autoimmune, and rheumatoid diseases, or coagulopathies was performed. None responded positive.
Discussion
Conclusions
Symmetric cerebral infarctions are an uncommon presentation of aTOS in the first decade of life. Since retrograde embolic phenomenon may mimic inflammatory or metabolic disease, it should be of importance to exclude this rare cause of stroke. The excision of a supernumerary rib, although effective in adolescents, may be of limited benefit in preadolescent patients what favors non-operative management in case of lack of indications for urgent surgery.
Disclaimer
The authors declare that this manuscript has not been published elsewhere and is not under consideration by another journal.
Compliance with ethical standards
Ethical committee approval
The authors declare that that the study complies with the current law in Poland.
Conflict of interest
The authors declare that they have no conflict of interest.
Open Access
This article is distributed under the terms of the Creative Commons Attribution 4.0 International License (http://creativecommons.org/licenses/by/4.0/), which permits unrestricted use, distribution, and reproduction in any medium, provided you give appropriate credit to the original author(s) and the source, provide a link to the Creative Commons license, and indicate if changes were made.