24.10.2017 | Original Article | Ausgabe 2/2018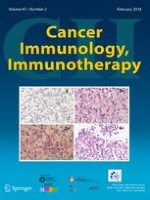 A CD3-bispecific molecule targeting P-cadherin demonstrates T cell-mediated regression of established solid tumors in mice
Zeitschrift:
Autoren:

Timothy S. Fisher, Andrea T. Hooper, Justin Lucas, Tracey H. Clark, Allison K. Rohner, Bryan Peano, Mark W. Elliott, Konstantinos Tsaparikos, Hui Wang, Jonathan Golas, Maria Gavriil, Nahor Haddish-Berhane, Lioudmila Tchistiakova, Hans-Peter Gerber, Adam R. Root, Chad May
Wichtige Hinweise
Electronic supplementary material
The online version of this article (doi:
10.​1007/​s00262-017-2081-0
) contains supplementary material, which is available to authorized users.
Text from this paper was included in a published short abstract for an oral presentation at the 23rd International Molecular Medicine Tri-Conference March 8, 2016, San Francisco, USA.
Abstract
Strong evidence exists supporting the important role T cells play in the immune response against tumors. Still, the ability to initiate tumor-specific immune responses remains a challenge. Recent clinical trials suggest that bispecific antibody-mediated retargeted T cells are a promising therapeutic approach to eliminate hematopoietic tumors. However, this approach has not been validated in solid tumors. PF-06671008 is a dual-affinity retargeting (DART®)-bispecific protein engineered with enhanced pharmacokinetic properties to extend in vivo half-life, and designed to engage and activate endogenous polyclonal T cell populations via the CD3 complex in the presence of solid tumors expressing P-cadherin. This bispecific molecule elicited potent P-cadherin expression-dependent cytotoxic T cell activity across a range of tumor indications in vitro, and in vivo in tumor-bearing mice. Regression of established tumors in vivo was observed in both cell line and patient-derived xenograft models engrafted with circulating human T lymphocytes. Measurement of in vivo pharmacodynamic markers demonstrates PF-06671008-mediated T cell activation, infiltration and killing as the mechanism of tumor inhibition.