01.10.2008 | Original Article | Ausgabe 10/2008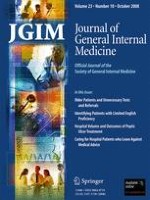 A Clinical Decision Rule to Aid Ordering of Serum and Urine Protein Electrophoresis for Case-Finding of Paraproteins in Hospitalized Inpatients
Zeitschrift:
Autoren:

PhD Ammarin Thakkinstian, MB BS, FRACP Huy Tran, MB BS, FRACP Glenn Reeves, B Med Stuart Murch, PhD, FRCPC, FRACP John Attia
Abstract
Objective
To develop a simple clinical decision rule that could increase the yield of serum and urine protein electrophoresis (SPE/UPE) without loss of sensitivity.
Design
A cross-sectional study of inpatients with a SPE/UPE performed over a 5-year period (2001–2006) with complete data on electrolytes, globulins, full blood count, creatinine, age, and gender.
Setting
A tertiary-care general teaching hospital serving the Hunter Valley in New South Wales, with a referral population of over 1 million.
Participants
A total of 14,374 adult patients admitted between January 2001–November 2006.
Main outcome measures
Paraprotein on serum and/or urine protein electrophoresis (SPE/UPE).
Results
Five points were assigned for globulin >41 g/l, 3 points for age ≥60, 2 points for each of hemoglobin <121 and male gender, and 1 point for estimated glomerular filtration rate (eGFR) <60. Total scores of 0–5, 6–10, and ≥11 corresponded to positive likelihood ratios of an abnormal SPE/UPE of 1, 2.5, and 6.6, respectively. The predictive ability of this model was strong, with an area under the curve of ∼0.8. Results in the validation set were almost identical.
Conclusion
A clinical decision rule using simple clinical variables has the potential to improve the yield of SPE/UPE. This rule however needs to be verified prospectively.