01.12.2018 | Study protocol | Ausgabe 1/2018 Open Access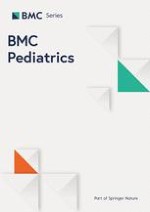 A cluster randomized web-based intervention trial to reduce food neophobia and promote healthy diets among one-year-old children in kindergarten: study protocol
Zeitschrift:
Autoren:

Eli Anne Myrvoll Blomkvist, Sissel Heidi Helland, Elisabet Rudjord Hillesund, Nina Cecilie Øverby
Abstract
Background
A child's first years of life are crucial for cognitive development and future health. Studies show that a varied diet with a high intake of vegetables is positive for both weight and cognitive development. The present low intake of vegetables in children's diets is therefore a concern. Food neophobia can be a barrier for vegetable intake in children. Our hypothesis is that interventions that can increase children's intake of vegetables should be introduced early in life to overcome children's neophobia. This study aims to develop, measure and compare the effect of two different interventions among one-year-old children in kindergartens to reduce food neophobia and promote healthy diets.
Methods
The kindergartens are randomized to one of three groups: two different intervention groups and one control group. We aimed to include a total of 210 children in the study. The first intervention group will be served a warm lunch meal with a variety of vegetables, 3 days a week during the intervention period of 3 months. The second intervention group will be served the same meals and, in addition, kindergarten staff will be asked to implement pedagogical tools including sensory lessons, adapted from the Sapere method, and advices on meal practice and feeding practices. The control group continues their usual meal practices. Parents and kindergarten staff will complete questionnaires regarding food neophobia, food habits and cognitive development at baseline and post intervention. A similar intervention among 2-year-old children in kindergarten has been implemented and evaluated earlier. We will investigate whether a digital version of this intervention has an effect, because digital interventions can be easily implemented nationwide. We will also investigate whether there are benefits of conducting such interventions in younger children, before the onset of food neophobia. Questionnaires, information videos and recipes will be digitally distributed.
Discussion
Results of this study will provide new knowledge about whether a sensory education and a healthy meal intervention targeting children, kindergarten staff and parents will reduce levels of food neophobia in children, improve parental and kindergarten feeding practices, improve children's dietary variety, improve children's cognitive development and reduce childhood overweight.
Trial registration