23.06.2018 | Original Article | Ausgabe 10/2018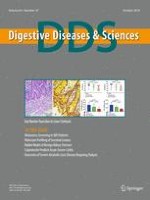 A COL1A1 Promoter-Controlled Expression of TGF-β Soluble Receptor Inhibits Hepatic Fibrosis Without Triggering Autoimmune Responses
Zeitschrift:
Autoren:

Shouhua Zhang, Yuanqi Gong, Juhua Xiao, Yong Chai, Jun Lei, Hui Huang, Tianxin Xiang, Wei Shen
Wichtige Hinweise
Electronic supplementary material
Shouhua Zhang and Yuanqi Gong contributed equally to this work.
Abstract
Background
Soluble TGF-β1 type II receptor (sTβRII) via TGF-β1 inhibition could inhibit hepatic fibrosis, but over-dosage triggers autoimmune responses.
Aim
To test whether the use of a TGF-β1-responsive collagen I promoter COL1A1, via generating a feedback loop to TGF-β1 level, could offer accurate control on sTβRII expression.
Methods
Recombinant adenoviruses with COL1A1 (Ad-COL-sTβRII/Luc) or CMV promoter (Ad-CMV-sTβRII/Luc) were constructed and characterized. Inhibition of TGF-β activity was determined both in vitro and in vivo. Total and bioactive TGF-β, hepatic fibrosis scale, α-SMA, collagen levels, and liver function were determined.
Results
COL1A1, but not CMV, responded to TGF-β1 in vitro. Both in vitro and in vivo, Ad-COL-sTβRII could significantly, but not completely inhibit TGF-β1 activity while Ad-CMV-sTβRII almost completely inhibited TGF-β1 activity. As evidenced by fibrosis scale, α-SMA, and collagen levels in liver tissue, Ad-COL-sTβRII and Ad-CMV-sTβRII had comparable efficacies in treating hepatic fibrosis. Ad-COL-sTβRII was better than Ad-CMV-sTβRII in liver function restore. Ad-CMV-sTβRII, but not Ad-COL-sTβRII, induced high level of anti-dsDNA and anti-Sm antibodies in rats.
Conclusions
COL1A1 can precisely control sTβRII expression to inhibit excessive bioactive TGF-β level and thus inhibit hepatic fibrosis but without inducing autoimmune responses.