05.02.2019 | Original Article | Ausgabe 4/2019 Open Access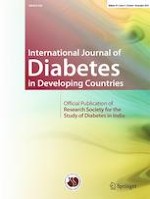 A community-based cross-sectional study of magnitude of dysglycemia and associated factors in Southwest Ethiopia
Autoren:

Temeselew Zenebe, Hailu Merga, Ermias Habte
Wichtige Hinweise
Publisher's note
Springer Nature remains neutral with regard to jurisdictional claims in published maps and institutional affiliations.
Abstract
Background
Diabetes, one of the non-communicable diseases becoming major public health problems in the country, is a group of metabolic diseases characterized by hyperglycemia resulting from defects in insulin secretion, insulin action, or both. The chronic hyperglycemia of diabetes is associated with long-term damage, dysfunction, and failure of different organs, especially the eyes, kidneys, nerves, heart, and blood vessels. This study aimed at assessing the prevalence of dysglycemia (type 2 diabetes and impaired fasting glucose) and associated factors for adults older than 40 years living in Southwest Ethiopia.
Methods
A community-based cross-sectional study was conducted using the WHO STEPwise tool for surveillance of non-communicable diseases. Data was collected by face-to-face interview and measurement of anthropometry, blood pressure, and fasting blood sugar using pretested questionnaire, and it was analyzed using SPSS version 20. Logistic regression was used to identify associated factors with the outcome variable.
Results
The overall prevalence of dysglycemia was 18.6% among adults older than 40 years. Type 2 diabetes accounts for 5.7%, and impaired fasting glucose accounts for 12.9%. Presence of family history of diabetes [AOR = 2.45, 95% CI (1.08, 5.52)], being overweight [AOR = 3.8, 95% CI (1.84, 7.95)], and being obese [AOR = 7.78, 95% CI (2.90, 20.91)] were significantly and independently associated with dysglycemia.
Conclusion
In this study, the prevalence of dysglycemia was high. Having a family history of diabetes mellitus and higher body mass index (overweight or obese) were risk factors for dysglycemia.