10.08.2019 | Original Article | Ausgabe 2/2020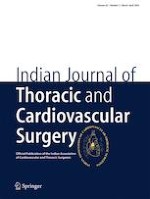 A community hospital's experience with robotic thoracic surgery
Autoren:

Nihaal Karnik, Xihua Yang, Naeem Goussous, Lindsay Howe, Riny Karras
Wichtige Hinweise
Presented as a poster in the 52nd Annual Meeting of the Eastern Cardiothoracic Surgical Society (ECTSS), Palm Beach, FL, October 10, 2014
Publisher's note
Springer Nature remains neutral with regard to jurisdictional claims in published maps and institutional affiliations.
Abstract
Introduction
The emergence of minimally invasive thoracic surgery has positively impacted postoperative recovery. Robotic-assisted thoracoscopic surgery (RATS) has been shown to have equivalent short- and long-term outcomes as compared with video-assisted thoracoscopic surgery (VATS). The introduction of RATS offers a three-dimensional high-definition image, improved ergonomics, and wristed movement. The purpose of this paper was to define the learning curve of RATS.
Methods
This study is a retrospective review of a single surgeon's RATS experience in a community hospital. All patients who underwent RATS between December 2011 and April 2014 were included. The cohort was divided into 2 groups: "early" and "late." These groups were created based on the date before or after February 2013, respectively. Data is presented as means and percentages. Significance was defined as a
P
value < 0.05. All categorical variables were evaluated with Fisher's exact
t
test and all continuous variables were compared via a paired
t
test.
Results
Seventy-nine patients were identified with a mean age of 59. There were 39 patients in the early group and 40 in the late. Rates of conversion to open thoracotomy (13% vs 10%,
P
 = 0.74) and operative time (180 vs 204 min,
P
 = 0.34) did not demonstrate any statistical significance between the two cohorts. Postoperative morbidity (21% vs 28%,
P
 = 0.60) and mortality (3% vs 0%,
P
 = 1.00) were equivalent between both groups. There was a higher percentage of lobectomies performed during the late group (38% vs 65%,
P
 = 0.02). Furthermore, these lobectomies were performed at a faster rate in the late group.
Conclusion
Based on our experience, the complexity of the operations that can be performed robotically increased with the number of operations performed without an impact on postoperative morbidity and mortality.