02.02.2019 | Original Article | Ausgabe 4/2019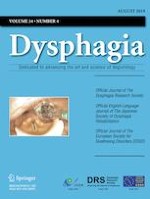 A Comparative Analysis of Eating Behavior of School-Aged Children with Eosinophilic Esophagitis and Their Caregivers' Quality of Life: Perspectives of Caregivers
Zeitschrift:
Autoren:

Girish Hiremath, Elizabeth Rogers, Elizabeth Kennedy, Jonathan Hemler, Sari Acra
Wichtige Hinweise
Electronic supplementary material
Publisher's Note
Springer Nature remains neutral with regard to jurisdictional claims in published maps and institutional affiliations.
Abstract
Eosinophilic esophagitis (EoE) can affect eating behavior in infants and children and this may lead to stressful interactions with their caregivers and potentially impact their caregivers' quality of life. Clinical evaluation of eating behaviors can be time consuming and burdensome. Caregivers can provide a comprehensive assessment of their child's eating behavior; however, this has not been well studied in children with EoE. In a case–control study, we used Child Eating Behavior Questionnaire (CEBQ) to compare caregivers' perception of eating behaviors in children (ages 11 ± 4 years; Mean ± SD) with EoE (cEoE;
N
 = 42) to that of non-EoE controls (cControls;
N
 = 38), and Feeding/Swallowing Impact on Children's Caregivers Questionnaire (FS-IS) to examine the impact of EoE-related eating problems on their caregivers' quality of life. There were no differences between the cEoE and cControls perceptions of eating behaviors as assessed by CEBQ. In FS-IS, the cEoE indicated that they were worried about the way their child would breathe or if the child would choke while feeding (2.28 ± 0.16 vs. 1.25 ± 0.13;
p
 < 0.001), and also indicated that it was hard for them to feed their child as it took a long time to prepare liquids and foods the "right" way (2.1 ± 0.20 vs. 1.17 ± 0.09;
p
 < 0.001) when compared to cControls. Our results suggest that caregivers' perception of the eating behavior of school-aged children with and without EoE do not differ significantly, yet the perception of feeding/swallowing issues in children with EoE can negatively impact their caregivers' quality of life. Further research is needed to discern the eating behavior in children with EoE and its relationship with their caregivers' quality of life.