01.12.2016 | Research article | Ausgabe 1/2016 Open Access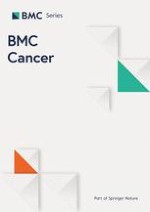 A comparison of 12-gene colon cancer assay gene expression in African American and Caucasian patients with stage II colon cancer
Zeitschrift:
Autoren:

Rangaswamy Govindarajan, James Posey, Calvin Y. Chao, Ruixiao Lu, Trafina Jadhav, Ahmed Y. Javed, Awais Javed, Fade A. Mahmoud, Raymond U. Osarogiagbon, Upender Manne
Abstract
Background
African American (AA) colon cancer patients have a worse prognosis than Caucasian (CA) colon cancer patients, however, reasons for this disparity are not well understood. To determine if tumor biology might contribute to differential prognosis, we measured recurrence risk and gene expression using the Onco
type
DX
®
Colon Cancer Assay (12-gene assay) and compared the Recurrence Score results and gene expression profiles between AA patients and CA patients with stage II colon cancer.
Methods
We retrieved demographic, clinical, and archived tumor tissues from stage II colon cancer patients at four institutions. The 12-gene assay and mismatch repair (MMR) status were performed by Genomic Health (Redwood City, California). Student's
t
-test and the Wilcoxon rank sum test were used to compare Recurrence Score data and gene expression data from AA and CA patients (SAS Enterprise Guide 5.1).
Results
Samples from 122 AA and 122 CA patients were analyzed. There were 118 women (63 AA, 55 CA) and 126 men (59 AA, 67 CA). Median age was 66 years for AA patients and 68 for CA patients. Age, gender, year of surgery, pathologic T-stage, tumor location, the number of lymph nodes examined, lymphovascular invasion, and MMR status were not significantly different between groups (
p
 = 0.93). The mean Recurrence Score result for AA patients (27.9 ± 12.8) and CA patients (28.1 ± 11.8) was not significantly different and the proportions of patients with high Recurrence Score values (≥41) were similar between the groups (17/122 AA; 15/122 CA). None of the gene expression variables, either single genes or gene groups (cell cycle group, stromal group, BGN1, FAP, INHBA1, Ki67, MYBL2, cMYC and GADD45B), was significantly different between the racial groups. After controlling for clinical and pathologic covariates, the means and distributions of Recurrence Score results and gene expression profiles showed no statistically significant difference between patient groups.
Conclusion
The distribution of Recurrence Score results and gene expression data was similar in a cohort of AA and CA patients with stage II colon cancer and similar clinical characteristics, suggesting that tumor biology, as represented by the 12-gene assay, did not differ between patient groups.