01.12.2017 | Research | Ausgabe 1/2017 Open Access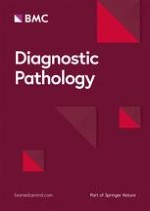 A comparison of gene expression profiles in patients with coronary artery disease, type 2 diabetes, and their coexisting conditions
Zeitschrift:
Autoren:

Rui Gong, Menghui Chen, Cuizhao Zhang, Manli Chen, Haibin Li
Wichtige Hinweise
Electronic supplementary material
The online version of this article (doi:
10.​1186/​s13000-017-0630-7
) contains supplementary material, which is available to authorized users.
Abbreviations
BioGRID
Biological general repository for interaction datasets
KEGG
Kyoto encyclopedia of genes and genomes
PPI
Protein-protein interaction
RPKM
Reads per kilobase of exon per million mapped reads
Background
Type 2 diabetes (T2D) and coronary artery disease (CAD) often coexist and cause substantial public health and economic burden world-wide. CAD has long been established as a complication of T2D. The plaque formation in T2D patients may narrow the coronary arteries and thus predispose the occurrence of heart attack. It is assumed that there is an intrinsic interplay between T2D and CAD, in the form of shared etiology and pathophysiological mechanisms. The two diseases have shared common risk factors such as, age, gender, anthropometric, metabolic, socioeconomic and lifestyle variables, as well as psychosocial stress and environmental pollutant exposure. In addition, both diseases are characterized by a chronic inflammatory process [
1
,
2
] and disorders of the coagulation system [
3
].
T2D has been associated with increased risk of cardiovascular disease and death [
4
,
5
]. The underlying mechanisms may involve a complex interplay between genes predisposing to insulin resistance and those independently regulating lipid metabolism, coagulation processes and biological responses of the arterial wall [
6
]. The shared susceptibility regions (bin 9.3 and 6.5) were observed across T2D, obesity and CAD by Wu et al, suggesting the possibility of shared pathophysiology and risk through genetic pleiotropy [
7
], which may account for their frequent coexistence. However, there has been limited success in correlating T2D with CAD in terms of pathophysiologic changes up to now [
8
].
Peripheral blood gene expression profile has been used to reflect pathological conditions in a variety of diseases [
9
–
14
]. The increasing genomic information has provided an opportunity to better understand the complex biological processes of diseases, especially after the emergence of high throughput technologies. Previous studies have reported the gradual change in circulating gene expression profiles in patients with different extent of CAD [
14
].
Therefore, to support a hypothesis of an intrinsic interplay between T2D and CAD, we compared the peripheral blood gene expression profiles of T2D, CAD and coexisting conditions, to better understand the association of the three metabolic disorders.
Methods
Patients
All patients (2 T2D, 2 CAD, and 6 T2D + CAD) were recruited from the Third Municipal Hospital of Shijiazhuang City between March 2007 and December 2009. The diagnosis of T2D was according to World Health Organization criteria [
15
]. CAD was diagnosed with imaging techniques to detect flow-limiting coronary artery stenosis[
16
]. Patients met both of the above inclusion criteria were defined as T2D + CAD. The age- and race-matched patients (
n
 = 7) attending the outpatient department were recruited as control during the study period. None of these patients had previous diagnosis of dyslipidemia, abnormal glucose tolerance, high blood pressure, or any illness. Demographic data and medication of the study population are summarized in Additional file
1
: Table S1. The study was approved by the Institutional Review Board of the Third Municipal Hospital of Shijiazhuang City and all subjects provided written informed consent.
RNA isolation and sequencing
Peripheral blood mononuclear cells (PBMCs) were isolated from ethylene diamine tetraacetic acid (EDTA) anticoagulated whole blood using Ficoll–Hypaque gradients. Total RNA was extracted using a Trizol reagent (Invitrogen, Carlsbad, CA, USA). The quality and quantity of RNA were evaluated on a Nanodrop ND-2000 spectrophotometer (Thermo Scientific, Wilmington, DE, USA). Isolation of messenger RNA (mRNA) was carried out using a TruSeq RNA library preparation kit (Illumina, San Diego, CA) according to the manufacturer's instruction. The products were subsequently fragmented into sizes of around 200 bp and subjected to double-stranded cDNA synthesis. A HiSeqTM 2500 platform (Illumina) was applied to perform sequencing.
Differential expression analysis
TopHat v1.3.1 software [
17
] was used to align raw sequencing reads to the UCSC human reference genome (Build hg19). The original alignment file was processed to measure transcript abundance using Cufflinks v1.0.3 software [
18
]. Transcript abundance of each gene was determined by calculation of Reads per kilobase of exon per million mapped reads (RPKM). The paired t-tests were performed to identify differentially expressed genes.
P
 <0.05 was selected as the criteria for significant differences. Hierarchical clustering of differentially expressed genes was performed using the "pheatmap" function of the R/Bioconductor package [
8
].
Functional enrichment analysis of differentially expressed genes
Gene ontology (GO) enrichment analysis and Kyoto Encyclopedia of Genes and Genomes (KEGG) pathway analysis were performed to annotate the biological function of the differentially expressed genes using the online software GENECODIS [
19
]. A cut-off of FDR was defined at 0.05.
Protein-protein interactions (PPIs) network construction
To reveal the interactions of selected genes at molecular level, PPIs network was established based on the online database [
20
,
21
]. Biological General Repository for Interaction Datasets (BioGRID) (
http://​thebiogrid.​org/​
) was used to construct PPI networks, and the distribution characteristics of selected genes in the PPI network were visualized using Cytoscape software [
22
]. Nodes in the PPI network represent proteins, while edges represent interactions between two proteins.
Verification of gene expression via GSE23561
The publicly available microarray dataset, GSE23561, was downloaded from GEO database (GEO,
http://​www.​ncbi.​nlm.​nih.​gov/​geo
) [
23
] to confirm the selected differentially expressed genes between each disorder group and normal control. In GSE23561, it showed the peripheral blood gene expression profiles of control (
n
 = 9), rheumatoid arthritis (
n
 = 6), metabolic syndrome (
n
 = 6), CAD (
n
= 6) and T2D (
n
 = 8).
Results
Discussion
In this study, we used RNA-seq to identify unique peripheral blood gene expression signatures of T2D, CAD, and coexisting condition. Previous literature have revealed that there is an intrinsic interplay between T2D and CAD, while the detailed mechanism remains unclear. Toward this end, we compared the gene expression profiles of T2D, CAD and coexisting condition to show the association in-between them, and tried to explain the shared pathophysiology.
Conclusions
In summary, our data showed that the gene expression profile of T2D, CAD, and coexisting condition were all distinguishable from controls, and displayed common and specific gene expression pattern in each disordered state. To note, viral infectious cycle, anti-apoptosis, endocrine pancreas development, innate immune response and blood coagulation were common biological processes among the three conditions. This study provides some evidences in the transcript level to show the association of T2D, CAD and coexisting condition. For this study, the number of sample for RNA-seq was small, which is a limitation of this study, so studies of large sample size need to be conducted to confirm this conclusion.
Acknowledgements
Not applicable.
Availability of data and materials
The datasets generated during the current study are available from the corresponding author on reasonable request.
Authors' contributions
LHB conceived of the study. GR carried out data analysis, participated in its design and coordination and drafted the manuscript. CMH, ZCZ, and CML performed the analysis of raw data. All authors read and approved the final manuscript.
Competing interests
The authors declare that they have no competing interests.
Consent for publication
Not applicable.
Ethics approval and consent to participate
The study was approved by the Institutional Review Board of The Third Municipal Hospital of Shijiazhuang City (Reference number: 005) and all subjects provided written informed consent.
Publisher's Note
Springer Nature remains neutral with regard to jurisdictional claims in published maps and institutional affiliations.
Open Access
This article is distributed under the terms of the Creative Commons Attribution 4.0 International License (
http://​creativecommons.​org/​licenses/​by/​4.​0/​
), which permits unrestricted use, distribution, and reproduction in any medium, provided you give appropriate credit to the original author(s) and the source, provide a link to the Creative Commons license, and indicate if changes were made. The Creative Commons Public Domain Dedication waiver (
http://​creativecommons.​org/​publicdomain/​zero/​1.​0/​
) applies to the data made available in this article, unless otherwise stated.