01.12.2018 | Research | Ausgabe 1/2018 Open Access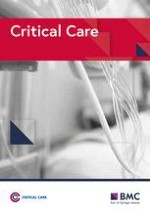 A complete and multifaceted overview of antibiotic use and infection diagnosis in the intensive care unit: results from a prospective four-year registration
Zeitschrift:
Autoren:

Liesbet De Bus, Bram Gadeyne, Johan Steen, Jerina Boelens, Geert Claeys, Dominique Benoit, Jan De Waele, Johan Decruyenaere, Pieter Depuydt
Wichtige Hinweise
Electronic supplementary material
Abbreviations
APACHE II
Acute Physiology and Chronic Health Evaluation II
ASP
Antibiotic stewardship program
CDC-NHSN
Centers for Disease Control and Prevention - National Healthcare Safety Network
COSARA
Computer-based surveillance and alerting of infections, antimicrobial resistance and antibiotic consumption in the ICU
ECDC
European Centre for Disease Prevention and Control
ESBL
Extended spectrum beta-lactamase production
VAP
Ventilator-associated pneumonia
VAT
Ventilator-associated tracheobronchitis
Background
Antibiotics are among the most prescribed drugs in the intensive care unit (ICU) [
1
,
2
]. The concept of "antibiotic stewardship" refers to policies and interventions to optimize antibiotic therapy and restrict their unnecessary use [
3
–
9
]. The latter comprises avoiding antibiotic prescription for non-infectious disease, limiting the use of broad-spectrum drugs when a narrower antimicrobial spectrum suffices and shortening duration of therapy when prolonged antibiotic courses do not provide benefit [
10
–
12
].
Surveillance of antibiotic prescription is a first and essential step to measure antibiotic expenditure, to document physicians' incentives to prescribe antibiotics and to identify areas of potential overuse or misuse which could then be a target for antimicrobial stewardship interventions [
5
,
13
–
15
]. In general, surveillance metrics are derived from antibiotic prescription data (pharmacy-based), microbiology results (laboratory-based) or diagnostic codes (administration-based) or a combination thereof. However, surveillance is not the primary purpose of these sources of information and using them often results in poor matching of antibiotic prescription data with the corresponding clinical and microbiological information. As such, their ability to represent the complex nature of the antibiotic treatment decision-making process and thus their practical usefulness is limited [
16
–
18
]. Prospective surveillance is more precise and informative but, since it is demanding in time and resources, is usually only applied for relatively short periods of time or for a limited scope of prescription, e.g. for certain classes of reserved antibiotics [
19
]. However, the computerization of the patient ICU chart has nowadays offered the potential to record healthcare processes as complete data of high resolution in a way that minimally interferes with the healthcare deliverer's workflow [
20
].
In this manuscript, we present a complete and in-depth analysis of global antibiotic prescription and infection diagnosis in a university hospital ICU over a 4-year period. These data were collected with the help of a locally developed software program, which has been designed to link pharmaceutical, clinical and microbiological data together with diagnostic interpretation while performing daily bedside clinical work. As such, we were able to get a bird's eye view of our local antibiotic prescribing practices, which can then serve as a starting point for the future construction of an antibiotic stewardship program (ASP).
Methods
Setting
This study was conducted from 1 January 2013 until 31 December 2016 at the medical (14 beds) and surgical (22 beds) ICU of Ghent University Hospital (1054 beds). The Ghent University Hospital Ethics Committee approved the study (registration number B670201628197) and waived informed consent based on the non-interventional nature of this study and the complete anonymization of patient data. Patients aged 16 years or older were included.
An Intensive Care Information System (Centricity Critical Care, GE Health Care) integrating computerized physician order entry for medication prescriptions, computerized medication administration recording and clinical patient monitoring data has been available at the bedside since 2003. Patients are managed in a closed ICU model. Antibiotic prescriptions are at the discretion of the attending senior ICU physician, without the use of stringent protocols or antibiotic restrictions. As a rule, postoperative prophylactic treatment is not prolonged for more than 24 h following the procedure. Empirical antibiotic choices are guided by systematically collected surveillance cultures whenever available. Direct microscopic examination is performed on all diagnostic respiratory and per-operative samples. Pathogen identification is routinely performed by matrix-assisted laser desorption ionization time-of-flight mass spectrometry (MALDI-TOF MS). Microbiology results are reported electronically. Interdisciplinary staff meetings with medical microbiologists reviewing all antibiotic prescriptions take place once weekly in the medical ICU and three times weekly in the surgical ICU; these staff also include the presence of infectious diseases specialists in the surgical ICU. In addition, daily advice and follow up by these specialties is possible on a demand basis. Treatment duration and opportunities for antibiotic de-escalation are evaluated daily by the attending ICU physician and during the interdisciplinary discussions.
A ventilation-associated pneumonia (VAP) prevention bundle was used during the entire study period and involved the use of strict hand hygiene, oral care with chlorhexidine, endotracheal tube cuff pressure control (between 20 and 30 cm of H 2O), a semi-recumbent position (30–45°) and daily assessment of sedation.
A software program with the acronym COSARA (Computer-based Surveillance and Alerting of infections, antimicrobial Resistance and Antibiotic consumption in the ICU) was developed by a consortium of the Ghent University Hospital ICU and the Department of Information Technology (INTEC) of the Faculty of Engineering of Ghent University [
20
]. The project was funded by the Flemish government. The software has been fully operational since 2010 at the study ICU and since then its use has become incorporated into routine daily patient care (e.g. during ward rounds and interdisciplinary staff meetings). The goal of COSARA is to support the physician in the daily workflow by automatically integrating all relevant infection-related data (clinical parameters, antibiotic prescription, laboratory variables including microbiology and chest x-ray images) from different data sources and presenting these as a graphic overview (Additional files
1
,
2
,
3
and
4
). The validity of COSARA as a surveillance tool and the feasibility of continued infection registration through the software has been described in a preceding study [
21
]. With the help of COSARA, all antibiotic prescriptions are prospectively labeled: diagnostic (suspected focus, severity and probability of infection, or prophylaxis) and microbiological information is first entered into the system by ICU physicians at the time of antibiotic prescription, which is then definitively reassessed by dedicated ICU physicians (LDB and PD) at patient discharge. Probability is classified as low, moderate or high, as described previously [
21
], using clinical, radiological and microbiological criteria.
Prescription indication and antimicrobial utilization were described for all patients that were admitted during this study period. In microbiologically confirmed infections, the timing of appropriate antibiotic therapy was defined as the point in time at which all pathogens involved in the infection were covered by at least one component of the treatment.
Antimicrobial days of therapy (DOT) per admission and per patient days is recommended as utilization metric by the STEWARDS panel and others [
13
,
14
,
22
]. In agreement with the recommendations of the Centers for Disease Control and Prevention - National Healthcare Safety Network (CDC-NHSN), DOT is defined as the number of days with systemic administration of at least one dose of an antimicrobial agent as recorded by COSARA [
12
].
Subgroup analyses were performed in the patient populations with an ICU length of stay (LOS) equal to or more than 48 h versus less than 48 h, respectively, as this latter subgroup consists mainly of the less severely ill patients in our setting (e.g. patients who are postoperative, have minor trauma or are being monitored). In addition, patients with an ICU LOS of 48 h or more constitute the population at risk of developing ICU-acquired infection, which was defined as an infection emerging after more than 48 h of ICU admission.
Statistics
Categorical variables were expressed as frequencies (percentages) and continuous variables were described as medians with the interquartile range (IQR; 25–75th percentile). Differences in categorical variables were calculated using the Pearson chi-square test. The Mann–Whitney U test was used to compare continuous variables. Statistical significance was defined as
p
 < 0.05. For outcome analysis, we only included the last ICU episode of patients with consecutive ICU admissions. Statistical analysis was performed using R Statistical Software (version 3.4.2).
Results
Discussion
In this manuscript, we demonstrated the versatility of a detailed database in antibiotic use and infection diagnosis, which is prospectively built by linking prescription, clinical and microbiological data on individual ICU patients during clinical workflow. This allowed various analyses that respectively center on patient admissions, prescription indication and infection diagnosis, antibiotic utilization and microbiology and as such may be useful to support various aspects of infection control and antibiotic stewardship. To the best of our knowledge, our study is the largest single-center study providing epidemiological data on antibiotic consumption and infections treated in the ICU in terms of number of ICU beds (36) and timespan covered (4 years).
Conclusions
We were able to obtain a unique bird's eye view on global antibiotic use and infection diagnosis in our ICU over a 4-year time period by analysis of a multifaceted dataset, which was collected during the daily clinical workflow of ICU physicians with the help of information technology. In doing so, we revealed antibiotic prescription patterns that merit the attention of antibiotic stewardship.
Funding
This research project was supported by the Institute for the Promotion of Innovation through Science and Technology in Flanders (project IWT–TBM COSARA–project number 060517). LDB was supported by a Clinical Research Grant from Ghent University Hospital, Belgium (project number KW/1394/INT/001/001). JDW and DB are senior Clinical Investigators with the Research Foundation Flanders (FWO).
Availability of data and materials
The datasets used and/or analyzed during the current study are available from the corresponding author on reasonable request.
Ethics approval and consent to participate
The Ghent University Hospital Ethics Committee approved the study (registration number B670201628197) and waived informed consent based on the non-interventional nature of this study.
Consent for publication
Not applicable.
Competing interests
The authors declare that they have no competing interests.
Publisher's Note
Springer Nature remains neutral with regard to jurisdictional claims in published maps and institutional affiliations.
Open Access
This article is distributed under the terms of the Creative Commons Attribution 4.0 International License (
http://​creativecommons.​org/​licenses/​by/​4.​0/​
), which permits unrestricted use, distribution, and reproduction in any medium, provided you give appropriate credit to the original author(s) and the source, provide a link to the Creative Commons license, and indicate if changes were made. The Creative Commons Public Domain Dedication waiver (
http://​creativecommons.​org/​publicdomain/​zero/​1.​0/​
) applies to the data made available in this article, unless otherwise stated.