01.10.2011 | Special Annual Issue | Ausgabe 10/2011 Open Access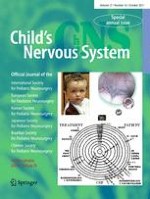 A consensus on the classification of hydrocephalus: its utility in the assessment of abnormalities of cerebrospinal fluid dynamics
Zeitschrift:
Autor:

Harold L. Rekate
Abstract
Background
Between 2009 and 2011 an attempt has been made to develop a consensus on the classification of hydrocephalus. Clinicians and basic scientists who are recognized internationally for their work in hydrocephalus attended working meetings in which the concepts of classification of hydrocephalus were discussed at length.
Purpose
This review attempts to explain the relevance of a classification scheme based on the point of obstruction to the flow of cerebrospinal fluid to basic science research into the pathophysiology and effects of hydrocephalus. The review is designed to give examples of the value of this classification in analyzing research utilizing animal models. The development of hydrocephalus in the absence of a point of obstruction (true communicating hydrocephalus) is analyzed.
Conclusion
Contemporary neuroimaging techniques are now available that can identify the actual point of obstruction to the flow of CSF, if any, which results in the development of hydrocephalus. Such identification may lead to improved ability to analyze animal models used in hydrocephalus research as well as deciding among various treatment options.