01.12.2018 | Research article | Ausgabe 1/2018 Open Access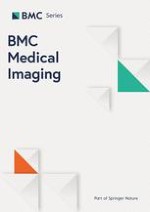 A consistency evaluation of signal-to-noise ratio in the quality assessment of human brain magnetic resonance images
Zeitschrift:
Autoren:

Shaode Yu, Guangzhe Dai, Zhaoyang Wang, Leida Li, Xinhua Wei, Yaoqin Xie
Abbreviations
BIQI
Blind image quality index
BLIINDS-II
The improved version of blind image integrity notator using DCT statistics
BRISQUE
Blind/referenceless image spatial quality evaluator
DCT
Discrete cosine transform
DWT
Discrete wavelet transform
ICC1
Intra-observer correlation coefficient
ICC2
Inter-observer correlation coefficient
MIQA
Medical image quality assessment
NIQA
Natural image quality assessment
NIQE
Natural image quality evaluator
TOI
Tissue region of interest
Background
Methods
Results
Discussion
This paper has validated the consistency of SNR measurement in the quality assessment of human brain MR images. Moreover, the correlation between TOI-based SNR measurement and NIQA models has been analyzed. The study suggests that off-the-shelf NIQA models used in computer vision community are full of potential for automated and objective MIQA applications.
The consistency evaluation indicates that SNR measurement is reliable to different observers in each MR imaging sequence. In image pre-processing, TOIs are randomly localized. When no overlapping between TOIs, the Dice index would be zero. On average, TOIs are slightly overlapped by no more than 6% [Table
2
], while the statistical analysis indicates that SNR values are not significantly changed between observers [Table
3
]. That means independent localization of TOIs makes no difference to SNR measurement. Moreover, the test-retest reliability study suggests good to very good intra- and inter-observer reliability (Table
4
). That might be the reason why SNR is widely used in clinical situations. And accordingly, a non-physician can independently perform the SNR measurement of MR images as good as an experienced physician does.
The correlation between SNR values and NIQA models shows that BLIINDS-II correlates well with SNR
csf
on T
2
*
and T
2
weighted MR images, since CSF presents relatively higher voxel intensity over other tissues that leads to the robust estimation of SNR
csf
. In comparison to SNR
csf
, more NIQA results are in good correlation with SNR
wm
values, since WM is distinguishable in involved MR imaging sequences. Therefore, the authors suggest that tissue regions with higher intensities should function as the TOI in SNR measurement. On the whole, BRISQUE performs well as an automated no-reference NIQA model for the quality assessment of T
2
*
, T
1
and T
1
C weighted MR brain images, and BLIINDS-II is superior on assessing the quality of T
2
*
and T
2
MR images independent of the TOI selection. Consequently, it is full of potential to modify NIQA models developed in the computer vision community for MIQA applications in the medical imaging domain [
51
]. It should be mentioned that the correlation of SNR values and predicted results is not very good (
r
p
 ≤ 0.85) and further improvement or modifications of existing NIQA models is needed.
SNR is frequently used as an image quality indicator in clinic. It is a local measure regarding the whole MR image. The SNR measurement can also be formulated from the global signal by using the whole object region as the tissue region. An overview of existing definitions of SNR measurement can be referred to [
23
]. More general and automated MIQA algorithms include using Shannon's theory to describe the image content and then to model the spatial spectral power density of the image as the quality indicator [
21
] or analyzing the background of magnitude images of structural brain to represent the image quality [
52
]. In particular, some researchers explore to bridge the gap between SNR measurement and diagnostic accuracy or detectability [
9
,
18
]. These studies show superiority over the physical measure of image quality, since the ultimate goal of medical imaging aims at abnormality detection and disease diagnosis.
Conclusions
The consistency of SNR measurement is validated regarding different observers. The correlation between SNR measurement and NIQA models indicates that BRISQUE works well for automated MIQA of T 2 *, T 1 and T 1C weighted brain MR images, and BLIINDS-II is superior over T 2 * and T 2 weighted images independent of the TOI selection. Our future work will focus on the connection of SNR measurement, NIQA models and MIQA applications.
Acknowledgements
The authors would like to thank the editor, reviewers and Rached Belgacem from Institut Superieur des Technologies Medicales de Tunis (ISTMT) for their valuable advices that have helped to improve the paper quality.
Funding
This work is supported in part by grants from the National Key Research and Develop Program of China (2016YFC0105102), the Leading Talent of Special Support Project in Guangdong (Y77504), the Shenzhen Key Technical Research Project (JSGG20160229203812944), the National Science Foundation of Guangdong (2014A030312006) and the Beijing Center for Mathematics and Information Interdisciplinary Sciences; the National Natural Science Foundation of China (61471349), the Science and Technology Plan Projects of Guangdong Province (2015B020233004), the Shenzhen Basic Technology Research Project (JCYJ20160429174611494 and JCYJ20170818160306270); the National Natural Science Foundation of China (61771473 and 61379143), the Six Talent Peaks High-level Talents in Jiangsu Province (XYDXX-063) and the Qing Lan Project; and the Science and Technology Planning Project of Guangzhou (201804010032). The funding sponsors had no role in the design of the study; in the collection, analysis or interpretation of data; in the writing of the manuscript; nor in the decision to publish the results.
Availability of data and materials
The datasets analyzed during the current study are not publicly available. These data could only be accessed to the physicians and researchers to ensure participant confidentiality.
Ethics approval and consent to participate
This study was performed in accordance with the ethical guidelines of the Declaration of Helsinki (version 2002). The brain MR imaging of healthy volunteers was approved by the Medical Ethics Committee of Shenzhen Institutes of Advanced Technology, Chinese Academy of Sciences, and the MR imaging of patients with brain tumors was approved by the Medical Ethics Committee of Guangzhou First People's Hospital of Guangzhou Medical University. Written informed consent was obtained from all participants.
Competing interests
The authors declare that they have no competing interests.
Publisher's Note
Springer Nature remains neutral with regard to jurisdictional claims in published maps and institutional affiliations.
Open Access
This article is distributed under the terms of the Creative Commons Attribution 4.0 International License (
http://​creativecommons.​org/​licenses/​by/​4.​0/​
), which permits unrestricted use, distribution, and reproduction in any medium, provided you give appropriate credit to the original author(s) and the source, provide a link to the Creative Commons license, and indicate if changes were made. The Creative Commons Public Domain Dedication waiver (
http://​creativecommons.​org/​publicdomain/​zero/​1.​0/​
) applies to the data made available in this article, unless otherwise stated.