01.02.2013 | Review | Ausgabe 1/2013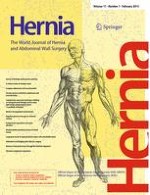 A critical review of biologic mesh use in ventral hernia repairs under contaminated conditions
Zeitschrift:
Autoren:

F. E. Primus, H. W. Harris
Abstract
Purpose
We used an evidence-based approach to determine whether the promotions and claims of superiority of biologic mesh over synthetic mesh use in ventral hernia repairs (VHRs) under contaminated conditions were sound and valid.
Methods
We searched the Medline database to specifically identify review articles relating to biologic mesh and VHR and critically reviewed these studies using an evidence-based approach.
Results
For the past 45 years, four clinical reviews and one systematic review have included biologic meshes as part of a larger discussion on available prosthetics for VHR. All reviews supported biologic mesh use, especially in the setting of contaminated fields. Yet, the primary literature included in these reviews and served as the basis for these conclusions consisted entirely of case series and case reports, which have the lowest level of evidence in determining scientific validity. Furthermore, the FDA has neither cleared nor approved this particular use.
Conclusions
The cumulative data regarding biologic mesh use in VHRs under contaminated conditions does not support the claim that it is better than synthetic mesh used under the same conditions. The highly promoted and at least moderately utilized practice of placing biologic mesh in contamination is being done outside of the original intended use, and a re-evaluation of or possible moratorium on biologic mesh use in hernia surgery is seriously warranted. Alternatively, an industry-sponsored national registry of patients in whom ventral hernia repairs involved biologic mesh would substantively add to our understanding regarding how these intriguing biomaterials are being used and their overall clinical efficacy.