01.12.2016 | Research Article | Ausgabe 1/2016 Open Access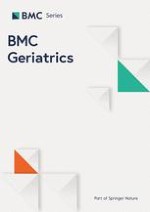 A critical review of the long-term disability outcomes following hip fracture
Zeitschrift:
Autoren:

Suzanne M. Dyer, Maria Crotty, Nicola Fairhall, Jay Magaziner, Lauren A. Beaupre, Ian D. Cameron, Catherine Sherrington, for the Fragility Fracture Network (FFN) Rehabilitation Research Special Interest Group
Wichtige Hinweise
Electronic supplementary material
The online version of this article (doi:
10.​1186/​s12877-016-0332-0
) contains supplementary material, which is available to authorized users.
Abbreviations
ADL
Activities of daily living
IADL
Instrumental activities of daily living
ICF
International classification of functioning, disability and health
QALY
Quality adjusted life year
WHO
World Health Organization
Background
World-wide, people are living longer, with an increase in the proportion of older people in the population [
1
]. The greater understanding we have of the conditions that predominantly affect older people, the more prepared society can be to maximise health, opportunities and societal contributions for older people.
The health of bones, muscles and joints commonly deteriorates with advancing age. With increased age, there is a decrease in bone mineral density as well as muscle mass and strength [
2
] and the risk of falls and fall related injury increases [
3
]. The relative contribution of physiological ageing, chronic disease and inactivity to this deterioration is not yet understood but it is clear that there is an increased risk of fragility fractures, fractures that occur as a result of a low energy trauma (a fall from standing height or less) with increasing age.
Hip fractures are a common consequence of falls in older people and are particularly devastating in terms of their impact on an individual's health and abilities. An estimated 95 % of hip fractures are due to falls [
4
]. The estimated annual prevalence of hip fractures globally is expected to reach 4.5 million by 2050 [
5
]. The highest aged-standardised rates of hip fracture due to osteoporosis are in North America and Europe [
6
]. Growth is also anticipated in other highly populated areas of the world, including countries in Asia, the Middle East and South America [
1
]. However while the age specific incidence is decreasing in a number of countries, population ageing in higher income countries is driving increases in the prevalence of hip fracture [
7
].
In high-income countries, most hip fractures are treated surgically, with admission to acute hospital care and, at times, a subsequent admission to a rehabilitation facility. Many older people who experience a hip fracture fail to fully recover. Many studies of hip fracture outcomes have been conducted but their findings regarding the long-term impact of hip fracture on independence in terms of mobility, activities of daily living (ADL) and life participation for older people are yet to be synthesised.
The aim of the current review was to provide an estimate of the impact of hip fracture on older people's abilities over the long term. Large cohort studies reporting outcomes of activity and participation, health and quality of life 3 months or longer after hip fracture are reviewed.
Methods
It was not possible to synthesise all reported outcomes data from all studies identified that met the eligibility criteria. Thus this article includes and summarises data from the studies that reported outcomes as: (a) comparisons to a non-fracture group; (b) the time to recovery of function (or recovery at multiple follow-up times after hip fracture); (c) the proportion recovering pre-fracture function; (d) impact on function for those living in residential care. For outcomes where data was sparse, this was supplemented with some data from studies reporting outcomes at a single time point or from other countries. Where data were only reported in graphical form, they were not extracted for review. Outcomes at discharge or other time points earlier than 3 months were not extracted for review.
Proportion/percentage calculations from numerator and denominator were not verified, except where the data are presented in this review graphically. The proportion followed-up was calculated as the number of known deaths plus those with follow-up data as a proportion of those enrolled, wherever possible (ie known deaths + followed-up/ N enrolled). Where calculation of the proportion followed up could not be verified, the value as reported in the original publication was accepted. Where possible, the proportion of participants institutionalised (i.e., moving to residential aged care) was determined as the number institutionalised divided by the number surviving and not institutionalised at baseline, rather than the proportion of the total study population enrolled. The findings were synthesised in a narrative summary of the studies.
Results
Discussion
Conclusions
This review highlights that while a proportion of people recover their pre-fracture function following hip fracture, for many the outcome from hip fracture is relatively poor. Future studies should determine the proportion of people that regain their pre-fracture level of functioning or participation to enable comparisons of outcomes between study populations and settings. There is a need to invest in research into interventions and programs designed to improve the longer term functional recovery of people following hip fracture, particularly given the increasing impact this is likely to have on our societies as the population demographics change.
Acknowledgements
Not applicable
Funding
The salary of S. Dyer and part of the salary of M. Crotty were funded by the National Health and Medical Research Council (NHMRC) Partnership Centre on Dealing with Cognitive and Related Functional Decline in Older People [grant no. GNT9100000]. The salaries of C. Sherrington and I. Cameron are funded by Australian National Health and Medical Research Council Fellowships. L. Beaupre receives salary support from the Canadian Institutes for Health Research as a New Investigator and from Alberta Innovates Health Solutions as a Population Health Investigator. J. Magaziner received funding from National Institutes of Health Grants R37 AG09901 and P30 AG028747. The research was conducted independently from the funding bodies.
Availability of data and materials
The dataset supporting the conclusions of this article are presented in the tables within the manuscript and supplementary materials.
Authors' contributions
SMD identified and selected studies, conducted data extraction, quality appraisal and manuscript preparation. MC, JM, LAB, IC and CS contributed to the design of the review, identification of studies, data interpretation and manuscript preparation. CS contributed to quality appraisal, NF contributed to data extraction, classification of outcomes and manuscript preparation. All authors read and approved the final manuscript.
Competing interests
MC, JM, LB and IC are authors of studies reporting long term functional outcomes following hip fracture. JM consults with companies that are developing or testing products to improve functional outcomes. The authors declare that they have no financial competing interests.
Consent for publication
Not applicable
Ethics approval and consent to participate
Not applicable
Open Access
This article is distributed under the terms of the Creative Commons Attribution 4.0 International License (
http://​creativecommons.​org/​licenses/​by/​4.​0/​
), which permits unrestricted use, distribution, and reproduction in any medium, provided you give appropriate credit to the original author(s) and the source, provide a link to the Creative Commons license, and indicate if changes were made. The Creative Commons Public Domain Dedication waiver (
http://​creativecommons.​org/​publicdomain/​zero/​1.​0/​
) applies to the data made available in this article, unless otherwise stated.