01.12.2010 | Systematic Review | Ausgabe 1/2010 Open Access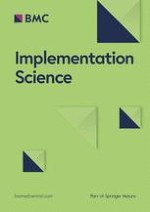 A critical synthesis of literature on the promoting action on research implementation in health services (PARIHS) framework
Zeitschrift:
Autoren:

Christian D Helfrich, Laura J Damschroder, Hildi J Hagedorn, Ginger S Daggett, Anju Sahay, Mona Ritchie, Teresa Damush, Marylou Guihan, Philip M Ullrich, Cheryl B Stetler
Wichtige Hinweise
Electronic supplementary material
The online version of this article (doi:
10.​1186/​1748-5908-5-82
) contains supplementary material, which is available to authorized users.
Competing interests
The authors declare that they have no competing interests.
Authors' contributions
CBS conceived the study. All authors abstracted, reviewed data and provided critical input on findings. CDH wrote first draft of paper and CBS, LJD and HH provided major input and revisions. All authors read, critiqued and approved the final manuscript.
Background
Only a small proportion of research findings are widely translated into clinical settings [
1
], often due to barriers in the local setting [
2
]. The Promoting Action on Research Implementation in Health Services framework, or PARIHS, is a conceptual framework that posits key, interacting elements that influence successful implementation of evidence-based practices (EBPs) [
3
–
7
]. Implementation researchers have widely cited PARIHS or used it as the basis for empirical work [
8
–
11
]. This body of research has occurred against the backdrop of broad calls to incorporate theoretical frameworks in quality improvement implementation activities and research [
12
–
14
].
It has been over a decade since Kitson and colleagues first described the PARIHS framework, and while several papers have been published that update and propose refinements [
4
–
7
,
14
,
15
], there has not yet been a literature review to examine how the framework has been used in implementation projects and research. Our interest in PARIHS grew out of its use by numerous researchers involved in the Veterans Health Administration (VA) Quality Enhancement Research Initiative and their expressed need for guidance in how to use it in implementation projects. The purpose of the present article is to critically review and synthesize the conceptual and empirical literatures on PARIHS to: understand how PARIHS has been used; understand how its elements and sub-elements have been operationalized; and highlight strengths and limitations of PARIHS relative to use of the framework to guide an implementation study. We close with a set of recommendations to increase the value of the PARIHS framework for guiding implementation activities and research.
PARIHS framework
Methods
We used qualitative, critical synthesis methods for this review because our objectives were descriptive (
e.g.
, describing how PARIHS has been used) and critical (
e.g.
, appraising relative strengths and weaknesses of the framework), rather than meta-analytic (
e.g.
, calculating an average effect size) [
17
]. We describe our review process below.
Search strategy and selection of publications
Our literature search included three sources. First, we conducted key word searches of the PubMed and CINAHL databases using the terms 'PARIHS' and 'promoting action on research implementation in health services.' We selected PubMed because it represents the preeminent database of peer-reviewed literature in the health fields, and CINAHL because it focuses specifically on nursing literature, where some of the original PARIHS concept papers were published. We used limited key words because this review was focused on the PARIHS model, rather than implementation models generally. Second, we reviewed the reference lists of included articles. Third, we solicited citations from a PARIHS author and other colleagues familiar with this body of research.
We selected articles based on four
a priori
criteria: published peer-reviewed literature, English language, published prior to March 2009, and explicit reference to the PARIHS framework either by name or citation of core conceptual articles. We did not specify
a priori
exclusion criteria.
Appraisal and abstraction of articles
We appraised and abstracted include articles in a three-step process. First, each article was read by a primary reviewer who wrote a narrative synopsis using a template (see Additional File
1
, Synopsis template). The purpose of the initial synopsis was to provide an overall summary and critique of the article. Second, the completed synopsis was distributed and reviewed by all co-authors, and discussed and refined on a conference call. Third, one of the co-authors condensed each synopsis using a structured summary table, with a separate table for each article. The purpose of the summary tables was to create a concise, structured appraisal and critique for each article. Some papers were empirical and others were conceptual. Summary tables for empirical articles included the overall method/design, an appraisal of study quality, study outcomes, how PARIHS was proposed to be used and actually used, and assessment of congruency between PARIHS and study methods (see Additional File
2
, Empirical article summary table). These tables also listed how PARIHS elements and sub-elements were defined and measured or operationalized in the study, along with findings, barriers, and enablers to implementation. The summary tables for core concept articles focused on the framework's elements, sub-elements, limitations, recommendations, and other observations (Additional File
3
, Core-concept article summary table). These summary tables were reviewed by the primary reviewer for that paper and again by all co-authors, discussed as a group, and affirmed or revised as needed. This collection of empirical and core summary tables constituted the analytic foundation for our meta-summary and synthesis.
Meta-summary and synthesis
Four co-authors reviewed the final set of summary tables and independently highlighted key points per article to create a meta-summary. Key points represented concepts, specific findings related to PARIHS generally and/or to specific elements or sub-elements, observations about the use of the framework, and conclusions. Information highlighted as a key point by at least three of the four co-authors was discussed further at a two-day, in-person working conference. The purpose of the discussion of key points was to explore and summarize similarities and differences across the papers (both empirical and core conceptual) and to develop qualitative themes. Some of the themes were descriptive,
e.g.
, regarding the actual versus articulated use of PARIHS. Other themes were interpretive,
e.g.
, our consensus judgments regarding overall limitations, related issues, and strengths of the framework relative to the ability of researchers to effectively use it to guide an implementation study. We developed implications for using the framework as well as related recommendations based on these synthesized findings. As with the article appraisal, the synthesis and recommendations were discussed with all co-authors and refined until consensus was reached.
Results
Discussion
Our objectives in the present synthesis were to understand how PARIHS has been used in implementation studies, how it has been operationalized, and the strengths and limitations of PARIHS and its supporting literature. We found a reasonably large published literature (33 published papers, 18 of which were empirical), but this is a body of findings that reflects many of the current limitations of the broader implementation science literature. These limitations provide great opportunities for improvement, notably three.
Finally, there are opportunities to improve the conceptual clarity of the framework itself, including refining conceptual definitions to more clearly draw distinctions among related sub-elements, such as receptive context, leadership, and culture. This will help provide for more rigorous studies by making it easier for users to map measures back to PARIHS consistently, derive testable hypotheses using the framework, and design more effective implementation strategies. We have drafted an implementation guide, being published separately, which discusses in more detail recommendations for those using PARIHS in task-oriented implementation projects and research, or seeking to refine the framework. Below, we briefly discuss three specific opportunities to refine the PARIHS framework.
Conceptually, successful implementation might comprise three distinct aspects, identified as part of our aforementioned implementation Guide. All represent seemingly necessary conditions for concluding that a project has achieved successful implementation: realization of the implementation plan or strategy; achievement and maintenance of the targeted EBP; and achievement and maintenance of end-point patient or organizational outcomes. These three components reflect a logic model linking an implementation strategy to ultimate outcomes. This definition of successful implementation affords an understanding of when and how an implementation program has delivered the benefits as hypothesized. To accomplish that, we need to assess whether the implementation strategy occurred as planned, whether the EBP was established as needed, and whether desired outcomes followed.
Limitations
Our review had two limitations. First, we did not assess the 'gray' or unpublished literature or publications in languages other than English. In doing so, we may have missed important work relating to PARIHS.
Second, we focused exclusively on the PARIHS framework, and not on literature regarding other frameworks that may include similar or related constructs. Doing so was beyond the scope of our synthesis, though we do comment on the need for greater comparison and linkages between PARIHS and other frameworks.
Some may also view our methods as limited because we did not conduct a quantitative meta-analysis. However, we used methods appropriate to our research questions and to the literature being reviewed, which included few quantitative studies. We also took several steps to increase the transparency and reliability of our results.
Summary
The single greatest need for researchers using PARIHS, and other implementation models, is to use the framework prospectively and comprehensively, and evaluate that use relative to its perceived strengths and issues for enhancing successful implementation. Ultimately, the proof of any implementation framework is its demonstrated usefulness in practical terms to design implementation interventions and make implementation more effective under various conditions. Studies using the framework in this way will move the whole field forward.
Researchers using PARIHS in studies or to guide action research should clearly explain how PARIHS is used and how interventions or measures map to specific PARIHS elements. For example, studies of facilitation activities should explain how facilitation purpose, role and skills and attributes were defined or taken into account. Other reviews have similarly called for more explicit and detailed explanation of how theory is used in implementation studies [
43
,
44
]. It may be time for the implementation science community to develop consensus guidelines for what should be reported.
Acknowledgements
This material is based upon work supported by the U.S. Department of Veterans Affairs, Office of Research and Development Health Services R&D Program. We wish to acknowledge the important contributions of Jeffrey Smith to the paper, and the important administrative assistance of Jared LeClerc and Rachel Smith. Also, our thanks to Corrine Voils for providing invaluable feedback on a draft of the paper, and to Lars Wallin and Jacqueline Tetroe for their excellent reviews and suggestions. The views expressed in this article are the authors' and do not necessarily reflect the position or policy of the Department of Veterans Affairs.
This article is published under license to BioMed Central Ltd. This is an Open Access article distributed under the terms of the Creative Commons Attribution License (
http://​creativecommons.​org/​licenses/​by/​2.​0
), which permits unrestricted use, distribution, and reproduction in any medium, provided the original work is properly cited.
Competing interests
The authors declare that they have no competing interests.
Authors' contributions
CBS conceived the study. All authors abstracted, reviewed data and provided critical input on findings. CDH wrote first draft of paper and CBS, LJD and HH provided major input and revisions. All authors read, critiqued and approved the final manuscript.