01.12.2017 | Research article | Ausgabe 1/2017 Open Access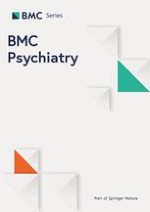 A cross-sectional study about associations between personality characteristics and mental health service utilization in a Korean national community sample of adults with psychiatric disorders
Zeitschrift:
Autoren:

Subin Park, Yeeun Lee, Su Jeong Seong, Sung Man Chang, Jun Young Lee, Bong Jin Hahm, Jin Pyo Hong
Abbreviations
CIDI
Composite International Diagnostic Interview
DSM-IV
Diagnostic and statistical manual of mental disorders, Fourth Edition
K-BFI-10
Korean version of big five inventory-10
K-CIDI
Korean version of the composite international diagnostic interview
KECA
Korean epidemiologic catchment area
MHSU
Mental health service utilization
Background
Methods
Subjects
Analyzed data were from the Korean Epidemiologic Catchment Area (KECA) studies of 2001 [
24
] and 2006 [
25
]. KECA used the Korean version of the Composite International Diagnostic Interview 2.1 (K-CIDI 2.1) [
26
]. KECA also included a 2011 follow-up and examined lifetime and 1-year prevalence, socioeconomic status, and co-morbidities of mental illness in the Diagnostic and Statistical Manual of Mental Disorders, Fourth Edition (DSM-IV) for Korean adults. Research participants were selected based on a stratified multistage, cluster sampling design derived from a population census of community registry offices in 2010. The individual with the earliest birthday in the calendar year was selected from each included household. From the 7650 selected, 1628 refused (78.7% response rate), and 6022 subjects completed the face-to-face interviews [
27
]. Of these 6022 subjects, 1544 (25.6%) with a lifetime diagnosis of any DSM-IV psychiatric disorder were analyzed. The institutional review board of the Seoul National University College of Medicine approved the study protocol. Every subject was well-informed of the study objectives and methods prior to the interview. Written informed consent was obtained from each subject in advance of their participation in the study.
Measurements
Statistical analyses
Univariate logistic regression analyses was performed to compare between health service users and non-users concerning gender, age, economic status, and psychiatric diagnosis. Multivariate logistic regression analyses were performed to estimate the odds ratios (ORs) and 95% confidence intervals (CIs) of MHSU as the outcome variable and each personality construct score as the primary predictor. We examined two models to explore the effect of each personality construct on the MHSU. Model 1 included gender, age, and economic status as covariates. Model 2 additionally included the presence of alcohol use disorder, nicotine use disorder, depressive disorder, psychotic disorder, anxiety disorder, dysthymia, and somatoform disorder. Statistical analyses were done using SPSS version 21.0 (SPSS Inc., Chicago, IL) with significance level at
p
-value less than 0.05.
Results
Of the 1544 participants with lifetime psychiatric disorders, 17.8% (
n
= 225; 95% CI = 15.9%–19.7%) had used mental health services. To identify possible confounders that may mediate the association between MHSU and personality constructs, we compared the socio-demographic characteristics and lifetime prevalence of psychiatric disorders between mental health service users and non-users. Mental health service users were older and more likely to be female and have low economic status compared to non-users. Depressive disorder (OR = 7.24, 95% CI = 5.45–9.62), dysthymia (OR = 3.41, 95% CI = 1.95–5.97), and anxiety disorder (OR = 2.15, 95% CI = 1.65–2.81) were positively associated with MHSU, and nicotine use disorder (OR = 0.54, 95% CI = 0.38–0.77) and alcohol use disorder (OR = 0.33, 95% CI = 0.24–0.45) were negatively associated with MHSU (Table
1
).
Table 1
Socio-demographic and clinical correlates of mental health service utilization among KECA participants with lifetime mental disorder (
n
= 1544)
Independent variables

Odd ratios (95% CI)

Female gender, n (%)

203 (73.8)

624 (49.2)

2.92 (2.18–3.90)

<0.001

Age,

 18–34

51 (18.5)

341 (26.9)

ref

 35–54

114 (41.5)

553 (43.6)

1.38 (0.97–1.97)

0.078

  ≥ 55

110 (40.0)

375 (29.6)

1.96 (1.36–2.82)

<0.001

Family income (per year)

  < 22,000 US

127 (59.9)

452 (42.9)

2.01 (1.40–2.89)

<0.001

 22,000–33,000 US

38 (17.9)

265 (25.2)

1.03 (0.65–1.62)

0.915

  > 33,000 US

47 (22.2)

336 (31.9)

ref

 Nicotine use disorder

41 (14.9)

310 (24.5)

0.54 (0.38–0.77)

0.001

 Alcohol use disorder

61 (22.3)

586 (46.4)

0.33 (0.24–0.45)

<0.001

 Anxiety disorder

137 (51.3)

412 (32.9)

2.15 (1.65–2.81)

<0.001

 Depressive disorder

175 (64.6)

225 (20.1)

7.24 (5.45–9.62)

<0.001

 Dysthymic disorder

21 (9.3)

36 (2.9)

3.41 (1.95–5.97)

<0.001

 Psychotic disorder

9 (3.3)

25 (2.0)

1.69 (0.78–3.66)

0.186

 Somatoform disorder

17 (6.6)

85 (6.9)

0.96 (0.56–1.65)

0.884
Table
2
summarizes the associations between personality constructs and MHSU. After adjusting for age, gender, and economic status (Model 1), neuroticism (adjusted OR [AOR] = 1.30, 95% CI = 1.20–1.41) was positively associated with MHSU, and extraversion (AOR = 0.92, 95% CI = 0.86–0.99) and agreeableness (AOR = 0.89, 95% CI = 0.82–0.97) were negatively associated with MHSU. After further adjustment for DSM-IV psychiatric disorder in addition to age, gender, and economic status (Model 2), both neuroticism (AOR = 1.22, 95% CI = 1.10–1.34) and openness (AOR = 1.10, 95% CI = 1.00–1.22) were positively, and agreeableness (AOR = 0.89, 95% CI = 0.80–0.99) was negatively associated with MHSU.
Table 2
Multivariate analyses of personality variables and mental health utilization
Personality variables

Model 1

Model 2

AOR a (95% CI)

AOR b (95% CI)

Extraversion

0.92 (0.86–0.99)

0.023

0.98 (0.90–1.06)

0.976

Agreeableness

0.89 (0.82–0.97)

0.009

0.89 (0.80–0.99)

0.038

Conscientiousness

0.98 (0.90–1.06)

0.615

1.04 (0.94–1.15)

0.437

Neuroticism

1.30 (1.20–1.41)

<0.001

1.22 (1.10–1.34)

<0.001

Openness

1.06 (0.98–1.15)

0.140

1.10 (1.00–1.22)

0.048
Discussion
This study has several limitations. The cross-sectional design prevented investigation of the causal relationship between personality traits and MHSU. Second, we used lifetime MHSU rather than MHSU during a shorter period of time (e.g., prior 12 months). This may have lead to underestimation of MHSU due to recall bias over a longer duration. Finally, we only included community-dwelling individuals and not patients in institutional settings, which may have lead to the under-reporting of MHSU.
Conclusions
The present study identified that MHSU in Korean population with mental disorder was affected by personality traits. The positive association of MHSU with neuroticism and openness and negative association with agreeableness were found in our data. Personality and individual different characteristics should be considered when implementing strategies for improving the access to professional help for those with mental health problems. Further research is needed to identify whether personality traits have a role in the resilience process or as determinants of MHSU.
Acknowledgements
None.
Funding
Research grant from the Korean Ministry of Health and Welfare and Korea Healthcare Technology R&D project, Ministry of Health and Welfare, Republic of Korea. [Grant number HI12C0035] supported this study.
Availability of data and material
Additional information about the dataset and analysis are available upon request.
Authors' contributions
JPH and BJH contributed to conceptions and designs of the study, SJS, JYL, SMJ were involved in data acquisition, YL and SP analyzed and interpreted the data, SP wrote and revised the manuscript, all other authors were involved in revising the manuscript critically. All authors read and gave approval of the final version of the study.
Competing interests
The authors declare that they have no competing interest.
Consent for publication
Not applicable.
Ethics approval and consent to participate
The study was approved by the institutional review board of the Seoul National University College of Medicine. Every subject provided written informed consent prior to the interview.
Publisher's Note
Springer Nature remains neutral with regard to jurisdictional claims in published maps and institutional affiliations.
Open Access
This article is distributed under the terms of the Creative Commons Attribution 4.0 International License (
http://​creativecommons.​org/​licenses/​by/​4.​0/​
), which permits unrestricted use, distribution, and reproduction in any medium, provided you give appropriate credit to the original author(s) and the source, provide a link to the Creative Commons license, and indicate if changes were made. The Creative Commons Public Domain Dedication waiver (
http://​creativecommons.​org/​publicdomain/​zero/​1.​0/​
) applies to the data made available in this article, unless otherwise stated.