01.12.2015 | Research article | Ausgabe 1/2015 Open Access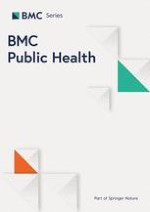 A cross-sectional study of the magnitude, barriers, and outcomes of HIV status disclosure among women participating in a perinatal HIV transmission study, "the Nevirapine Repeat Pregnancy study"
Zeitschrift:
Autoren:

Flavia M Kiweewa, Paul M Bakaki, Michelle S McConnell, Maria Musisi, Constance Namirembe, Frances Nakayiwa, Fiona Kusasira, Dorothy Nakintu, Michael C Mubiru, Philippa Musoke, Mary Glenn Fowler
Wichtige Hinweise
Competing interests
None of the authors has financial, consultant, institutional or other relationships that might lead to a bias or conflict of interest.
Authors' contributions
FMK, PMB, MSM, PM and MG contributed to the conception and design of the study. MM, CN, FN, FK, and DN contributed to data collection and quality control. Data analysis and interpretation was done by FMK and MCM guided by MGF. All authors contributed to the final version of the manuscript; revised the article critically for important intellectual content and approved the final manuscript.
Authors' information
Not applicable
Abstract
Background
HIV status disclosure is a difficult emotional task for HIV-infected persons and may create the opportunity for both social support and rejection. In this study, we evaluated the proportions, patterns, barriers and outcomes of HIV- 1 status disclosure among a group of women in Uganda.
Methods
An exit interview was conducted one year post-partum for 85 HIV-infected women who participated in a study of HIV-1 transmission rates among NVP-experienced compared with NVP-naïve women in "The Nevirapine Repeat Pregnancy (NVP-RP) Study" at the Makerere University-Johns Hopkins University Research Collaboration, Kampala-Uganda, between June 2004 and June 2006.
Results
Of the 85 women interviewed, 99 % had disclosed their HIV status to at least one other person. Disclosure proportions ranged between 1 % to employer(s) and 69 % to a relative other than a parent. Only 38 % of the women had disclosed to their sex partners. Women with an HIV-infected baby were more likely than those with an uninfected baby to disclose to their sex partner, OR 4.9 (95 % CI, 2.0 –11.2), and women were less likely to disclose to a partner if they had previously disclosed to another relative than if they had not, OR 0.19 (95 % CI, 0.14–0.52). The most common reasons for non-disclosure included fear of separation from the partner and subsequent loss of financial support 34 %, and not living with the partner (not having opportunities to disclose) 26 %. While most women (67 %) reported getting social support following disclosure, 22 % reported negative outcomes (neglect, separation from their partners, and loss of financial support). Following disclosure of HIV status, 9 % of women reported that their partner (s) decided to have an HIV test.
Conclusion
Results from this study show high overall HIV disclosure proportions and how this disclosure of HIV status can foster social support. However, proportions of disclosure specifically to male sex partners were low, which suggests the need for interventions aimed at increasing male involvement in perinatal care, along with supportive counseling.