01.12.2018 | Primary Research | Ausgabe 1/2018 Open Access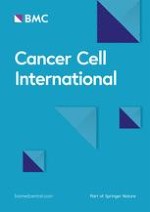 A cross-talk between integrin β4 and epidermal growth factor receptor induces gefitinib chemoresistance to gastric cancer
Zeitschrift:
Autoren:

Jia Huafeng, Zhang Deqing, Ding Yong, Zhang Yulian, Hu Ailing
Wichtige Hinweise
Jia Huafeng and Zhang Deqing made same contribution to the work
Abstract
Background
Gastric cancer presents a major health burden worldwide. Therefore, many molecular targeting agents have been evaluated for treatment of gastric cancer. Gefitinib has shown anticancer activity against gastric cancer which work through inhibiting epidermal growth factor receptor (EGFR). However, the effect of gefitinib is limited due to its resistance. Therefore, understanding the mechanisms of gefitinib resistance is desperately needed to formulate novel strategies against gastric cancer. Here, we analyzed resistance mechanism from the crosstalk between EGFR and integrin β4.
Methods
Integrin β4-expression vector or siRNA were used to analyze the functional effects of integrin β4 on chemoresistance of gastric cancer cells to gefitinib. EGFR and integrin β4 expression, proliferation and apoptosis of gastric cancer cells were assayed by indirect immunofluorescence, western blot, MTT and flow cytometry respectively. EGFR and integrin β4 expression were also assayed on patient samples.
Results
It was found that the integrin β4 expression was increased in gefitinib-resistant gastric cell line. The upregulated integrin β4 expression was identified to promote gefitinib resistance and proliferation, and inhibit apoptosis, while downregulation of integrin β4 was to inhibit gefitinib resistance and proliferation, and induce apoptosis. Moreover, the overexpression of integrin β4 in SGC7901 cells resulted in the down-regulation of p-EGFR protein levels while down-regulation of integrin β4, significantly resulted in overexpression of p-EGFR. The results of western blot from patients also showed there was obvious negative correlation between p-EGFR and integrin β4 in gastric cancer patients.
Conclusion
Considering the above results, it is concluded that the interaction of EGFR and integrin β4 may change the sensitivity of gefitinib treatment.