01.12.2018 | Study protocol | Ausgabe 1/2018 Open Access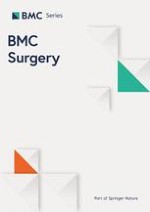 A dissonance-based intervention for women post roux-en-Y gastric bypass surgery aiming at improving quality of life and physical activity 24 months after surgery: study protocol for a randomized controlled trial
Zeitschrift:
Autoren:

Fanny Sellberg, Sofie Possmark, Ata Ghaderi, Erik Näslund, Mikaela Willmer, Per Tynelius, Anders Thorell, Magnus Sundbom, Joanna Uddén, Eva Szabo, Daniel Berglind
Abstract
Background
Roux-en-Y gastric bypass (RYGB) surgery is the most common bariatric procedure in Sweden and results in substantial weight loss. Approximately one year post-surgery weight regain for these patient are common, followed by a decrease in health related quality of life (HRQoL) and physical activity (PA). Our aim is to investigate the effects of a dissonance-based intervention on HRQoL, PA and other health-related behaviors in female RYGB patients 24 months after surgery. We are not aware of any previous RCT that has investigated the effects of a similar intervention targeting health behaviors after RYGB.
Methods
The ongoing RCT, the "WELL-GBP"-trial (wellbeing after gastric bypass), is a dissonance-based intervention for female RYGB patients conducted at five hospitals in Sweden. The participants are randomized to either control group receiving usual follow-up care, or to receive an intervention consisting of four group sessions three months post-surgery during which a modified version of the Stice dissonance-based intervention model is used. The sessions are held at the hospitals, and topics discussed are PA, eating behavior, social and intimate relationships. All participants are asked to complete questionnaires measuring HRQoL and other health-related behaviors and wear an accelerometer for seven days before surgery and at six months, one year and two years after surgery. The intention to treat and per protocol analysis will focus on differences between the intervention and control group from pre-surgery assessments to follow-up assessments at 24 months after RYGB. Patients' baseline characteristics are presented in this protocol paper.
Discussion
A total of 259 RYGB female patients has been enrolled in the "WELL-GBP"-trial, of which 156 women have been randomized to receive the intervention and 103 women to control group. The trial is conducted within a Swedish health care setting where female RYGB patients from diverse geographical areas are represented. Our results may, therefore, be representative for female RYGB patients in the country as a whole. If the intervention is effective, implementation within the Swedish health care system is possible within the near future.
Trial registration
The trial was registered on February 23th 2015 with registration number
ISRCTN16417174
.