01.12.2018 | Study protocol | Ausgabe 1/2018 Open Access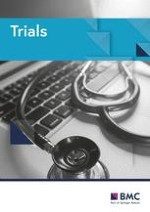 A double blind randomised control trial investigating the efficacy of platelet rich plasma versus placebo for the treatment of greater trochanteric pain syndrome (the HIPPO trial): a protocol for a randomised clinical trial
Zeitschrift:
Autoren:

Eshan Oderuth, Mohammed Ali, Ismael Atchia, Ajay Malviya
Wichtige Hinweise
Electronic supplementary material
Ismael Atchia and Ajay Malviya contributed equally to this work.
Abstract
Background
Greater trochanteric pain syndrome (GTPS) is a painful condition characterised by pain around the greater trochanter usually affecting middle-aged women. The majority of patients will improve with conservative management such as physiotherapy and non-steroidal anti-inflammatory drugs (NSAIDs); however, if this fails then more invasive treatments including corticosteroid injections and surgery may be required. Platelet-rich plasma (PRP) is an autologous blood product, which has a higher concentration of growth factors postulated to provide enhanced healing and anti-inflammatory properties. There have been numerous studies on PRP's efficacy in musculoskeletal soft tissue conditions with similar pathology to GTPS, with varying results, most promising being in plantar fasciopathy and patellar tendinopathy. Corticosteroids are the established second-line treatment, but do not always work long term. PRP may be a suitable alternative to corticosteroid in GTPS with longer-term effects; however, there are very limited reports. The Hip Injections PRP Vs Placebo (HIPPO) trial aims to assess the ability of PRP to improve symptoms and function in patients with GTPS.
Methods/design
HIPPO is a single-centre, double-blind randomized placebo-controlled study in patients with a radiologically confirmed diagnosis of gluteus medius or minimus tendinopathy with swelling within the tendon insertion with or without bursitis. We aim to randomise 102 patients with GTPS to either the PRP or placebo (normal saline injection) treatment arm. Participants will receive one ultrasound (US) guided PRP/placebo injection into the trochanteric bursa and surrounding gluteus medius/minimus tendons. The primary outcome measure is the International Hip Outcome Tool-12. Secondary outcome measures will include a visual analogue score for pain, the three-level version of the EuroQol five-dimensional questionnaire and the modified Harris Hip Score. Outcomes will be measured at baseline, 3, 6 and 12 months. Participants will have the option at 6 months to have a repeat blinded injection or cross over to PRP. Analyses of primary and secondary outcomes will be made according to the intention-to-treat principle. The trial reporting will comply with Consolidated Standards of Reporting Trials (CONSORT) guidelines.
Discussion
The HIPPO study has been designed to test the hypothesis that PRP is effective in treating GTPS in patients who have failed conservative management and to assess the duration of effect of PRP.
Trial registration
ClinicalTrials.gov,
NCT03479190
. Registered on 27 March 2018.