01.02.2013 | Original Article | Ausgabe 2/2013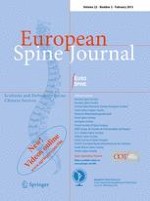 A five-step remedial screw placement method to treat severe spinal deformity with free-hand transpedicular screw placement
Zeitschrift:
Autoren:

Jing-Ming Xie, Zhi Zhao, Hua Yang, Ying-Song Wang, Ying Zhang, Tao Li, Ni Bi
Abstract
Purpose
Severe spinal deformity is a complex morphological deformation that occurs and develops in three-dimensional space combined with abnormal development and morphology of anatomical structures, which presents great difficulties in the process of transpedicular screw placement. This study tried to explore the methods of transpedicular screw placement in surgical correction of severe spinal deformities.
Methods
Surgical corrections through posterior approach were performed in all the 76 cases (mean age 20.4 years). The averaging preoperative Cobb's angle of scoliosis was 108.2° ± 33.6° (range 100°–170°). Among these patients, 34 cases were combined with kyphosis; the average Cobb's angle of kyphosis was 77.3° (range 63°–160°). During operation, the screw tract was first established with the regular free-hand pedicle screw placement method. When this failed, in order to adjust the screw trajectory, a five-step remedial method was performed in the following order: (1) the"funnel" method; (2) exploring the pedicle exterior edge through the costotransverse joint; (3) exploring the superior and inferior edges of pedicle through the nerve root canal; (4) the vertebral plate fenestration; and (5) hemilaminectomy.
Results
Among all 1,472 screws planned to be placed for the patients, 1,210 (82.2 %) were successfully placed after using the regular method, and 262 (17.8 %) failed in this stage. After applying the five-step remedial method, 256 of the failed 262 screws were successfully placed. Among them, 176 screws (68.8 %) were successfully placed after Step 1, 44 (17.2 %) after Step 2, 21 (8.2 %) after Step 3, 12 (4.7 %) after Step 4, and 3 (1.2 %) after Step 5. In only six, pedicles screws could not be placed eventually. No nerve or blood vessel damages occurred in all cases. All final screw positions were validated by CT.
Conclusion
The five-step remedial method proved to be an effective supplementary method for transpedicular screw placement to treat patients with severe spinal deformities. The key points include a detailed preoperative plan, a meticulous hand drilling sensation, and an experienced probing technique for screw tract.