01.12.2017 | Case report | Ausgabe 1/2017 Open Access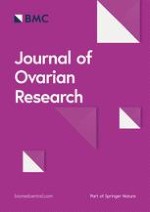 A gestational choriocarcinoma of the ovary diagnosed by DNA polymorphic analysis: a case report and systematic review of the literature
Zeitschrift:
Autoren:

Nan Jia, Yan Chen, Xiang Tao, Enzhi Ou, Xin Lu, Weiwei Feng
Abstract
Background
Choriocarcinoma of the ovary is rare. This tumor can arise from gestational tissue or pure germ cells of the ovary, the former results in gestational choriocarcinoma. The clinical characteristics and histology of both tumor types are identical, differentiation of these tumors is necessary for effective treatment. One strategy for the differentiation of these tumors types is to identify the presence of paternal DNA by DNA polymorphic analysis.
Case presentation
In the present case, a 27-year-old patient with a history of amenorrhea, lower abdominal pain and vaginal bleeding received a laparoscopic dissection of cystic mass of the right ovary according to an initial diagnosis of ectopic pregnancy. Primary choriocarcinoma of the ovary was diagnosed by pathology, but its origin was uncertain. DNA polymorphic analysis was then performed and a gestational origin was confirmed. The patient subsequently exhibited an excellent response to chemotherapy, achieved complete remission and gave birth to a healthy baby.
Conclusion
Differentiation between two etiologies of primary choriocarcinoma can be achieved with DNA polymorphic analysis and it is necessary to distinguish between them to approach to an appropriate treatment of a patient.