01.12.2018 | Research article | Ausgabe 1/2018 Open Access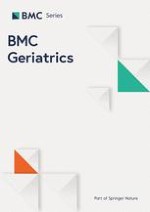 A group study on the effects of a short multi-domain cognitive training in healthy elderly Italian people
Zeitschrift:
Autoren:

Chiara F. Tagliabue, Sabrina Guzzetti, Giulia Gualco, Giovanna Boccolieri, Alfonsa Boccolieri, Stuart Smith, Roberta Daini
Wichtige Hinweise
Electronic supplementary material
Abstract
Background
Alongside physiological cognitive ageing, nowadays there is an alarming increase in the incidence of dementia that requires communities to invest in its prevention. The engagement in cognitively stimulating activities and strong social networks has been identified among those protective factors promoting successful cognitive ageing. One aspect regarding cognitive stimulation concerns the relevance of the frequency of an external intervention. For this reason, the aim of this study was to evaluate the efficacy of a 3-month cognitive training program, once per week, in a group of healthy elderly aged over 60 years old. Their results were compared with those of a passive control group.
Methods
The training consisted of a weekly session of multi-domain and ecological cognitive exercises performed in small homogenous (i.e. same cognitive level) groups. The scores obtained in a neuropsychological assessment by the experimental and control groups were compared at pre- and post-training. In addition, by means of a questionnaire, we also evaluated the indirect effect of the program on participants' mood, socialization and perceived impact on everyday activities.
Results
Overall, the experimental group showed a general improvement in cognitive functioning following the training program, even with the frequency of once per week. Greater improvements were observed mainly on executive functions and short-term memory, but general cognitive functioning and non-verbal reasoning also showed a tendency to an improvement. It is noteworthy that a majority of the participants reported to have subjectively experienced an improvement in their everyday life and a positive influence on both mood and socialization.
Conclusions
These results show that even a low-intensity training program is able to promote some of the protective factors that support successful cognitive ageing. Moreover, this multi-domain approach proved to be an excellent training method to transfer gains not only to other cognitive domains, but also to everyday living.
Trial registration
NCT03771131
; the study was retrospectively registered on December 7th 2018.