01.12.2018 | Study protocol | Ausgabe 1/2018 Open Access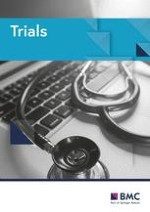 A hybrid type I trial to increase Veterans' access to insomnia care: study protocol for a randomized controlled trial
Zeitschrift:
Autoren:

Adam D. Bramoweth, Anne Germain, Ada O. Youk, Keri L. Rodriguez, Matthew J. Chinman
Wichtige Hinweise
Electronic supplementary material
Abstract
Background
Chronic insomnia is among the most reported complaints of Veterans and military personnel referred for mental health services. It is highly comorbid with medical and psychiatric disorders, and is associated with significantly increased healthcare utilization and costs. Evidence-based psychotherapy, namely Cognitive Behavioral Therapy for Insomnia (CBTI), is an effective treatment and recommended over prescription sleep medications. While CBTI is part of a nationwide rollout in the Veterans Health Administration to train hundreds of providers, access to treatment is still limited for many Veterans due to limited treatment availability, low patient and provider knowledge about treatment options, and Veteran barriers such as distance and travel, work schedules, and childcare. Uptake of a briefer, more primary-care-friendly treatment into routine clinical care in Veterans Affairs (VA) primary care settings, where insomnia is typically first recognized and diagnosed, may effectively and efficiently increase access to effective insomnia interventions and help decrease the risks and burdens related to chronic insomnia.
Methods
This hybrid type I trial is composed of two aims. The first preliminarily tests the clinical non-inferiority of Brief Behavioral Treatment for Insomnia (BBTI) versus the current "gold standard" treatment, CBTI. The second is a qualitative needs assessment, guided by the Consolidated Framework for Implementation Research (CFIR), to identify potential factors that may affect successful implementation and integration of behavioral treatments for insomnia in the primary care setting. To identify potential implementation factors, individual interviews are conducted with the Veterans who participate in the clinical trial, as well as VA primary care providers and nursing staff.
Discussion
It is increasingly important to better understand barriers to, and facilitators of, implementing insomnia interventions in order to ensure that Veterans have the best access to care. Furthermore, it is important to evaluate the potential for new avenues of treatment delivery, like BBTI in the primary care setting, which can benefit Veterans who may not have adequate access to specialty mental health providers trained in CBTI.
Trial registration
ClinicalTrials.gov, ID:
NCT02724800
. Registered on 31 March 2016.