05.04.2019 | Original Article | Ausgabe 6/2019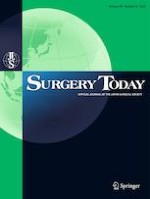 A Japanese multicenter phase II study of adjuvant chemotherapy with mFOLFOX6/CAPOX for stage III colon cancer treatment after D2/D3 lymphadenectomy
Zeitschrift:
Autoren:

Kazuhiko Yoshimatsu, Keiichiro Ishibashi, Keiji Koda, Hajime Yokomizo, Noritaka Oda, Mitsuru Oshiro, Hiroyuki Kato, Masatoshi Oya, Hideo Nakajima, Shinji Ooki, Hiroshi Maekawa, Toshio Matsunami, Masahiro Tsubaki, Takeshi Yamada, Michiya Kobayashi, Kohji Tanakaya, Masaru Yokoyama, Hideyuki Ishida
Wichtige Hinweise
Publisher's Note
Springer Nature remains neutral with regard to jurisdictional claims in published maps and institutional affiliations.
Abstract
Purpose
A phase II trial was conducted to investigate the benefit of oxaliplatin-based adjuvant chemotherapy in Japanese stage III colon cancer patients.
Methods
Eligible patients were scheduled to receive 12 cycles of mFOLFOX6 or 8 cycles of CAPOX in adjuvant settings. The primary endpoint was the 3-year disease-free survival (DFS). Cox proportional hazards regression was performed to identify risk factors for a worse DFS.
Results
A total of 130 patients, including 73 patients receiving mFOLFOX6 and 57 patients receiving CAPOX, were enrolled from 16 institutions between April 2010 and April 2014. The 3-year DFS was 82.2%, exceeding the expected primary endpoint of 81.7%. The 3-year DFS tended to be higher in patients receiving mFOLOFOX6 than in those receiving CAPOX (mFOLFOX6, 86.3%; CAPOX, 76.9%;
P
 = 0.06). The 3-year DFS rates did not differ markedly based on the risk stratification (T1/T2/T3 N1 vs. T4 or N2) indicated by the IDEA COLLABORATION study (
P
 = 0.22). In the multivariate analysis, stage IIIC (
P
 = 0.046) and early discontinuation (
P
 < 0.01) were identified as independent significant risk factors for a worse DFS.
Conclusion
Our findings represent the first positive results in a Japanese phase II trial of adjuvant chemotherapy with mFOLFOX6/CAPOX. Early discontinuation within 2 months was an independent risk factor for a shorter DFS.