01.12.2016 | Research | Ausgabe 1/2016 Open Access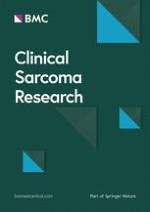 A Korean single-center, real-world, retrospective study of first-line weekly paclitaxel in patients with metastatic angiosarcoma
Zeitschrift:
Autoren:

Seonggyu Byeon, Haa-Na Song, Hee Kyung Kim, Jun Soo Ham, Su Jin Lee, Jeeyun Lee, Se Hoon Park
Wichtige Hinweise
Seonggyu Byeon and Haa-Na Song contributed equally to this work
Abstract
Background
Angiosarcoma is a rare subgroup of soft tissue sarcomas associated with poor prognosis, but paclitaxel has been shown to be active in pretreated metastatic disease. We investigated the efficacy and safety of weekly paclitaxel as first-line chemotherapy in adult patients with metastatic angiosarcoma.
Methods
A retrospective study using the Samsung Medical Center (Seoul, Korea) cancer chemotherapy registry was performed on 21 consecutive patients with angiosarcoma who were treated with weekly paclitaxel as first-line therapy for metastatic disease between Oct. 2008 and Dec. 2014. We excluded patients who were enrolled in clinical trials to ensure the results would reflect the real-world outcomes obtained in a daily clinical setting. Endpoints included efficacy in terms of response rate, progression-free survival (PFS), overall survival (OS) and safety.
Results
Among 21 patients, 15 (71 %) were male and the median age was 53 years (range, 24–76). Primary sites of angiosarcoma were the visceral organs (33 %), scalp (29 %) and heart (23 %). The median number of metastatic sites was two (range, 1–5) with the lungs being the most frequently involved site. Weekly paclitaxel was generally well tolerated: the major hematologic toxicity was grade 1/2 anemia (24 %). Among non-hematologic toxicities, grade 1/2 peripheral neuropathy was most commonly observed (67 %). Objective response was observed in 11 (52 %) patients (4 complete and 7 partial responses). With a median follow-up of 21 months, the estimated median PFS and OS were 5.7 months (95 % CI 5.1–6.3) and 18.6 months (95 % CI 9.9–27.3), respectively.
Conclusions
In this retrospective study, first-line chemotherapy with weekly paclitaxel demonstrated clinically relevant efficacy and tolerability in unselected Korean patients with metastatic angiosarcoma. It is encouraging that response rate and PFS for Korean patients were similar to those reported in Western reports.