01.12.2012 | Research article | Ausgabe 1/2012 Open Access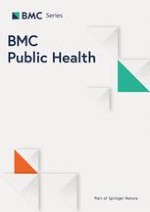 A longitudinal cohort based association study between uric acid level and metabolic syndrome in Chinese Han urban male population
Zeitschrift:
Autoren:

Qian Zhang, Chengqi Zhang, Xinhong Song, Haiyan Lin, Dongzhi Zhang, Wenjia Meng, Yongyuan Zhang, Zhenxin Zhu, Fang Tang, Longjian Liu, Xiaowei Yang, Fuzhong Xue
Wichtige Hinweise
Electronic supplementary material
The online version of this article (doi:
10.​1186/​1471-2458-12-419
) contains supplementary material, which is available to authorized users.
Qian Zhang, Chengqi Zhang contributed equally to this work.
Competing interests
There is no conflict of interest for any of the authors. All authors had access to the data and were involved in drafting the article and revising it critically for important intellectual content.
Authors' contributions
In our work, FX and CZ designed the study and directed its implementation, including quality assurance and control. XS, FT, HL and DZ did the clinical exam and collected the data. WM, YZ and ZZ helped analyzing the data. LL provided scientific comments and advice. XY worked on writing of the paper. QZ participated much of the above work and led the writing of the paper. All authors read and approved the final manuscript
Background
Metabolic syndrome (MetS) refers to a combination of medical disorders ,including obesity, dyslipidemia, hypertension and insulin resistance[
1
]. When occurring together, they increase the risk of developing cardiovascular disease (CVD) and diabetes [
2
]. Recent studies indicate a wider range of biomarkers of MetS, e.g., alanine aminotransferase, white blood cell count, gamma-glutamyltranspeptidase, and serum uric acid (UA) [
3
,
4
]. Based on cross-sectional studies, both positive and negative association between UA levels and MetS has been reported [
5
–
7
]. To overcome the inherent limitation of cross-sectional design, a prospective cohort study was conducted recently, which suggested that higher serum UA level would strongly increase the risk of MetS incidence [
8
]. Nonetheless, such a cohort study with only baseline UA used as predictor is still limited due to the fact that UA level would vary from time to time during the lifespan of most individuals [
8
]. Therefore, to fully understand the relationship between UA and MetS, and further assess the specific association between UA and each medical disorder in defining MetS, longitudinal studies are expected especially those with large sample sizes and repeated measures of UA. A longitudinal study is usually a cohort study that involves repeated observations of the same set of variables over a period of time. Unlike cross-sectional studies or cohort studies with only baseline measures, a longitudinal study not only tracks each participant's outcome (e.g., MetS) but also repeatedly measures risk factors that would change with time (e.g., UA). Therefore, longitudinal studies allow one to make observations more accurately and model time-dependent relationships. They are more becoming popular in epidemiology and biomedical research. In this paper, we study the UA-MetS associations using data from a longitudinal study of male residents who visited the Health Management Center of Shandong Provincial Hospital (HMCSPH) for routine physical examinations.
Methods
Study population
In our longitudinal study, participants include 2222 male residents of Shandong Province who visited HMCSPH (an affiliate of organization of Shandong University) at least three times for annual physical examinations between 2005 and 2010. During the 6 year follow-up, each participant on average had 3.63 ± 0.016 measures including serum UA levels. For this study, we only included participants who had not been diagnosed as having MetS at baseline. They were all Chinese Han with baseline age between 25 and 91 years, all belong to middle and upper socioeconomic classes. This study was approved by the Ethics Committee of School of Public Health, Shandong University, and all participants gave informed written consent.
Measurements
Blood samples were collected from participants after an overnight fast of at least 12 hours. Height and weight were measured on participants wearing light clothing without shoes, and body mass index (BMI) was calculated as weight (kg) divided by squared height (m). Blood pressure was measured on right upper arm with participants in sitting position after 5 minutes rest. Peripheral blood samples was obtained for measuring the following parameters: glucose, total cholesterol (CHOL), low-density lipoprotein (LDL), high-density lipoprotein (HDL), triglycerides, uric acid (UA), gamma-glutamyltranspeptidase (GGT), serum albumin (ALB), serum globulins (GLO), blood urea nitrogen (BUN), serum creatinine (CREA), hemoglobin (Hb), hematokrit (HCT), mean corpuscular volume(MCV), mean corpuscular hemoglobin (MCH), Red blood cell distribution width (RDW), white blood count (WBC), platelet distribution width (PDW), mean platelet volume (MPV), and thrombocytocrit (PCT). Data on smoking habits, alcohol intake, diet habits, sleeping quality, exercise frequency, and other variables were obtained using standardized questionnaire.
Definition of metS
Considering the physiological characteristics of our target population, the diagnostic criteria recommended by Diabetes Branch of the Chinese Medical Association (CDS) [
9
] was used in defining MetS in this study. An participant was claimed as having MetS if he or she had three or more of the following four medical conditions: (1) overweight or obesity, i.e., BMI ≥25.0 Kg/M [
2
]; (2) hypertension, i.e., systolic blood pressure (SBC) ≥140 mmHg, or diastolic blood pressure (DBP) ≥90 mmHg, or previously diagnosed as hypertension; (3) dyslipidemia, i.e., fasting triglycerides (TG) ≥1.7 mmol/L(110 mg/dl), or fasting high-density (HDL) <0.9 mmol/L(35 mg/dl); (4) hyperglycemia was defined as fasting blood-glucose (FPG) ≥6.1 mmol/L(110 mg/dl), or 2 h Postmeal Glucose (PG) ≥7.8 mmol/L(140 mg/dl),or previously diagnosed as hyperglycemia.
Missing data imputation
In our longitudinal study, there were some variables (see Table 
1
) with missing values due to early withdrawal of the participants or missing of certain physical examinations. To handle missing values, the strategy of multiple imputation (MI) was adopted where imputations were made using the Markov Chain Monte Carlo (MCMC) algorithm implemented in the MI Procedure of SAS 9.1.3 [
10
]. Then, each imputed data set was analysed using GEE regression models. Finally the multiple set of estimators for parameters of interest from the GEE analyses were combined to make final inferences. Considering that the variables in our analysis were continuously distributed with arbitrary missingness patterns, a multivariate normal distribution model was assumed in the MI Procedure. As seen in Table 
1
, most of the imputed variables had less than 10 % of missingness.
Table 1
Definition of UA levels and potential confounding factors and missingess rate
variables

Assignments

Missingess Rate

UA

qualified by their quartiles of P

25

, P

50

and P

75

every year;

Q1

: the UA level ≤ P

25

,

Q2

: P

25

 < the UA level < P

50

,

Q3

: P

50

 < the UA level < P

75

,

Q4

: the UA level ≥ P

75

0

2005

2006

2007

2008

2009

2010

P25

297

323

302

306

307

323

P50

353

372

345

349

353

368

P75

406

419

392

397

401

416

GGT

gamma-glutamyltranspeptidase , U/L

1 %

ALB

serum albumin, g/L

1 %

GLO

serum globulins, g/L

1 %

BUN

blood urea nitrogen, mg/L

1 %

CREA

serum creatinine, mg/dl

1 %

CHOL

Total cholesterol, mg/dl

1 %

Hb

Hemoglobin, g/L

1 %

HCT

Hematokrit, %

1 %

MCV

mean corpuscular volume, fL

1 %

MCH

mean corpuscular hemoglobin, pg

1 %

RDW

Red blood cell distribution width, %

1 %

WBC

white blood count, 109g/L

1 %

PDW

Platelet distribution width

1 %

MPV

mean platelet volume, fL

1 %

PCT

Thrombocytocrit, %

1 %

diet

0: Vegetarian, 1: meat-based, 2: normal, 3: sea food

17 %

drinking

0: never, 1: seldom, 2: often, wine, 3: often beer, 4: often, Chinese spirits, 5: often, mixed all kinds

6 %

smoking

0: never, 1: seldom, 2: quit, 3: 1-4/d, 4: 5-15/d, 5: >15/d

6 %

quality of sleep

0: excellent, 1: well, 2: fair, 3: poor, 4: very poor

6 %

exercise

0: never, 1: seldom, 2: often or everyday

6 %
UA Levels and potential confounding factors
Before fitting a GEE model, the original continuous serum UA measure was categorized into 4 levels using the 3 quartiles (P
25
, P
50
and P
75
) as cut-off values. As seen in Table 
1
, potential confounding factors were also considered during the GEE analysis.
Statistical analysis
Descriptive analyses were first conducted for the distributions of UA levels and potential covariates collected at the baseline survey. Then, each variable of interest was compared, using student's t-test, between subjects with and subjects without MetS at each follow-up interval (i.e., each year baseline). To study the association between UA levels and MetS, we first fitted simple GEE models, each with a single predictor (i.e., the UA variable or any one of the confounding factors). We finally fitted a multiple GEE regression model. A covariate was added to the final multiple regression model only if it was found significant (p < 0.05) in the single-predictor model. Note that the GEE modelling strategy is capable of describing time-dependent relationship between UA levels and the MetS status (yes or no), after adjusting potential confounders. All these variables are repeatedly measured during the 6-year follow-up. Age at baseline was also added to the multiple GEE analysis procedure to adjust for the age effect. In each GEE model, 'Logit' was chosen as the link function of GEE, because either MetS status is a binary dependent variable. Following the same procedure, we studied the association between UA levels and each one of the four medical disorders in defining MetS (i.e., overweight/obesity, hypertension, dyslipidemia, and hyperglycemia), which were all defined as binary variables. All statistical analysis was performed by SAS 9.1.3.
Results
Discussions
Conclusions
Association between UA and cardiovascular diseases has been reported frequently recent years. Many research confirmed that UA was a strong risk factor for cardiovascular diseases, especially MetS [
33
–
35
]. Our longitudinal study further verified that UA is an independent risk factor of MetS, higher level of UA leading to higher risk of MetS. All the analyses were based on GEE regression models with data from the longitudinal cohort study with Han Chinese urban male participants who were from middle to upper socioeconomic classes. Additionally, our study suggested that UA level be an independent risk factor to obesity, hypertension and dyslipidemia, but a protective factor to hyperglycemia. These findings are concordant with results from other studies on Asian populations, and jointly provide a basis to further develop a risk assessment model for predicting MetS using UA levels and other factors in China.
There were several limitations in the present study. Due to the fact that participants of the study who came to the hospitals mainly for physical examinations, they were mandatorily asked to report histories on medication for treating MetS or related medical disorders (e.g., hypertension). Thus we did not have data on medication in our GEE regression analyses in studying the UA–MetS association. Also considering that our study contains only local males from relatively rich and educated families in Shandong province, and the fact that our analyses only covered a follow-up period of 6 years and no genetic information was included, it is expected a large scale longitudinal study is expected for a better and fully understanding of the target relationships.
Competing interests
There is no conflict of interest for any of the authors. All authors had access to the data and were involved in drafting the article and revising it critically for important intellectual content.
Authors' contributions
In our work, FX and CZ designed the study and directed its implementation, including quality assurance and control. XS, FT, HL and DZ did the clinical exam and collected the data. WM, YZ and ZZ helped analyzing the data. LL provided scientific comments and advice. XY worked on writing of the paper. QZ participated much of the above work and led the writing of the paper. All authors read and approved the final manuscript