01.02.2020 | Original Communication | Ausgabe 5/2020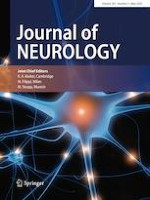 A longitudinal study of cognitive function in multiple sclerosis: is decline inevitable?
Zeitschrift:
Autoren:

Marina Katsari, Dimitrios S. Kasselimis, Erasmia Giogkaraki, Marianthi Breza, Maria-Eleftheria Evangelopoulos, Maria Anagnostouli, Elisabeth Andreadou, Costas Kilidireas, Alia Hotary, Ioannis Zalonis, Georgios Koutsis, Constantin Potagas
Wichtige Hinweise
Marina Katsari, Dimitrios S. Kasselimis, Georgios Koutsis, and Constantin Potagas have equally contributed to this work.
Abstract
Background
Numerous cross-sectional studies report cognitive impairment in multiple sclerosis (MS), but longitudinal studies with sufficiently long-term follow-up are scarce.
Objective
We aimed to investigate the cognitive 10-year course of a cohort of MS patients.
Methods
59 patients with clinically isolated syndrome (CIS) or relapsing–remitting (RR) MS were evaluated with Rao's Brief Repeatable Battery of Neuropsychological Tests at baseline and follow-up (at least 10 years later). They constituted 47.2% of 124 consecutive CIS and RRMS patients originally evaluated at baseline. Patients assessed at follow-up were well matched for baseline clinical characteristics with dropouts.
Results
The proportion of MS patients with overall cognitive impairment was increased by 10% within the 10-year period. When grouped on the basis of impairment in specific cognitive domains at baseline, patients originally impaired showed improvement at follow-up, while the opposite trend was observed for patients non-impaired at first assessment. A detailed case-by-case investigation revealed mixed evolution patterns, several patients fail in fewer domains at follow-up compared to baseline or failing at different domains at follow-up compared to baseline.
Conclusions
This study suggests a more fluid picture for the evolution of cognitive function in a subgroup of MS patients and contradicts the concept of an inevitable, progressively evolving "dementia".