03.05.2018 | Original Contribution | Ausgabe 4/2019 Open Access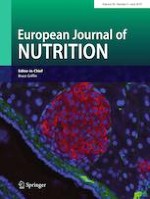 A low-fat spread with added plant sterols and fish omega-3 fatty acids lowers serum triglyceride and LDL-cholesterol concentrations in individuals with modest hypercholesterolaemia and hypertriglyceridaemia
Zeitschrift:
Autoren:

Wendy A. M. Blom, Wieneke P. Koppenol, Harry Hiemstra, Tatjana Stojakovic, Hubert Scharnagl, Elke A. Trautwein
Wichtige Hinweise
Electronic supplementary material
Introduction
In this study, we investigated, in a population of healthy individuals with elevated LDL-C and borderline-high to high TG concentrations, the efficacy of a dietary approach that may help to lower both TG and LDL-C concentrations. We developed a spread with 2.0 g/day added PS and 1.0 g/day EPA + DHA from fish oil and tested whether this intervention spread would lower TG concentrations (primary objective) in addition to LDL-C and other blood lipids (secondary objective) as compared to a placebo spread. Apolipoprotein measures were included to explore if effects on TG and other blood lipid concentrations were reflected by changes in apolipoprotein concentrations.
Subjects and methods
Study population
The study was conducted at Charité Research Organisation (Berlin, Germany) in men and women aged between 18 and 75 years. Study participants were recruited by advertisements in local newspapers and on the internet. Individuals were included when they had fasting TG concentrations at screening ≥ 1.40 and ≤ 5.60 mmol/L and fasting LDL-C concentrations at screening ≥ 3.4 and ≤ 4.9 mmol/L. Study participants had to habitually consume spreads or be willing to consume spreads. Those with a recently (< 6 months) diagnosed cardiovascular event or medical history that might impact study measurements were excluded from participation. Other exclusion criteria were alcohol abuse, smoking, intense sporting activities (> 10 h/week), night shift work 2 weeks prior to screening or during the study, the use of oral antibiotics or over-the-counter and prescribed medication which may interfere with study outcomes and consumption of plant-sterol/stanol-enriched foods or supplements, fish oil and/or EPA or DHA supplements. The use of low and moderate doses of statins was allowed if dose and brand were stable for ≥ 3 months. Pregnant or lactating women were excluded from participations, as well as individuals with reported weight loss or gain of 3 kg or more during a period of 2 months prior to screening. Employees of Unilever or Charité Research Organisation were not eligible for participation, neither were individuals who donated blood 1 month (men) or 2 months (females) prior to screening, or who reported participation in another nutritional or biomedical trial 2 months prior to screening or during the study.
Study design
This study was designed as a randomized, double-blind, placebo-controlled, parallel group study with two intervention arms. All study participants followed a 2-week run-in period during which they consumed the placebo spread to get familiarized with consuming a spread product and to allow blood lipid concentrations to stabilize. After the run-in phase, study participants were randomly allocated to consume either the placebo or the intervention spread for 4 weeks. Placebo and intervention spreads were provided in 12.5 g portion packs. Study participants were instructed to consume two portion packs daily divided over two main meals, i.e. breakfast, lunch or dinner.
At the end of the run-in and the intervention phases, fasting blood samples were collected on two consecutive days for measuring serum lipids (based on double blood sampling). Apolipoprotein concentrations were measured in single blood samples taken at the end of the run-in and the intervention phases.
Study products and dietary restrictions
The study products consisted of low-fat spread with no added PS or fish oil (placebo product) and a low-fat spread with 2.0 g PS (dose expressed as free PS equivalents) added in the form of PS esters and 1.0 g EPA + DHA from fish oil (intervention product) formulated in 25 g of product. The PS esters (BASF Corporation) consisted of 60% PS and 40% fatty acid esters. The long-chain omega-3 fatty acids EPA and DHA were obtained from marine fish oil (MEG-3™, DSM, Basel, Switzerland). The EPA + DHA content of the commercial fish oil used for this study was about 30%, with a ratio of EPA to DHA of about 1:1. The composition of the study products is provided in Table
1
. Part of the sunflower oil present in the placebo product was replaced by PS esters and fish oil in the intervention product. The rest of the formulation was kept similar. Due to this difference in formulation, total fat content and composition differed slightly between the two products. All study products were produced at Unilever Research and Development Vlaardingen, the Netherlands. Concentration of PS and EPA/DHA were measured in a random selection of the study products to check correct production of the products.
Table 1
Study product composition
| Per 25 g product | Placebo | Intervention |
| --- | --- | --- |
| Energy, kJ | 393.0 | 319.1 |
| Total protein (g) | 0.0 | 0.0 |
| Total carbohydrates (g) | 0.0 | 0.0 |
| Total fat (g) | 10.6 | 8.6 |
| SAFAs (g) | 2.2 | 2.8 |
| MUFAs (g) | 2.6 | 2.0 |
| PUFAs (g) | 5.8 | 3.7 |
| LA (g) | 5.7 | 2.1 |
| ALA (g) | 0.0 | 0.0 |
| EPA (mg) | 0 | 543 |
| DHA (mg) | 0 | 460 |
| TFAs (g) | 0.1 | 0.1 |
| Cholesterol (mg) | 0.0 | 39.9 |
| PS ester (g)a | 0 | 3.3 |
| Sodium (mg) | 2.7 | 2.7 |
| Vitamin E (mg) | 7.5 | 3.5 |
| Water (g) | 14.3 | 14.3 |
Some study products were administered at the test facility, i.e. when study participants were provided with breakfast, after collection of fasting blood samples. Study participants self-administered the rest of the study products (during run-in and intervention) at home. They were supplied with study products, in cooling bags, at the first day of the run-in period (Day − 14) for the next 2 weeks and at the first day of the intervention period (Day 1) for the next 4 weeks. Last product consumption was on Day 28. Spare products were provided in case of loss of products. Study participants were requested to consume the spread on bread or on crackers; using the spread on top of hot dishes or cooking, baking or frying with the spreads was not allowed. They were asked to refrigerate the study products at home (1–7 °C) while freezing of study products was not allowed. Unused portion packs were returned to the study site. Study participants received instructions to minimize changes in their habitual diet and lifestyle during the entire study period and to refrain from consuming fish oil (EPA and DHA) supplements or foods enriched with PS or plant stanol esters during the study. They were also asked to consume a maximum of one serving of fish per week. A personal diary which clearly described restrictions and in which non-compliance could be written down was provided. Compliance with study product intake and dietary restrictions, use of concomitant medication and adverse events were monitored throughout the study.
Blood sampling and assays
Venous blood samples were collected after an overnight fast (at least 10 h) at the last day of the run-in period (Day − 1), and at the first day of the intervention period (Day 1) and at two separate days at the end of the intervention period (Day 28 and Day 29).
All blood lipids, i.e. TC, HDL-C, LDL-C and TG were analysed by SYNLAB pharma institute, a division of SYNLAB Umweltinstitut GmbH, Berlin, Germany, using validated colourimetric methods on an AU680 automated analyser (Beckman Coulter, Beckman Coulter GmbH, Krefeld, Germany). All reagents and calibration standards were obtained from Beckman Coulter. The Root Mean Squared Deviation (between day) was ≤ 4.2% for the entire study period. Non-HDL-C (TC minus HDL-C) and remnant cholesterol (remnant C) defined as TC minus HDL-C and LDL-C (for post hoc analysis) concentrations were calculated.
Apolipoproteins (ApoAI, ApoAII, ApoB, ApoCII, ApoCIII and ApoE) were analysed at the Clinical Institute of Medical and Chemical Laboratory Diagnostics at the Medical University of Graz, Austria, in samples collected at Day 1 and Day 29 using commercially available assays and reagents. Apolipoproteins were determined by immunoturbidimetry using reagents from DiaSys (Holzheim, Germany) and standards from Siemens (Marburg, Germany, apoAI, apoB, apoE) and Kamiya Biomedical (Seattle, WA, USA, apoAII, apoCII, apoCIII). All measurements were performed on an Olympus AU640 automatic analyzer (Beckman Coulter, Brea, CA, USA). The coefficients of variation (between day) were < 5%. The ApoB/ApoAI ratio was calculated.
Statistical analyses
The study was powered to detect an 8.2% lower TG concentration at the end of intervention for the intervention group as compared to the placebo group, with a power of 0.8 and a significance level alpha of 0.05 (two-sided). Study size calculations were based on simulations due to a skewed truncated distribution of TGs (1.4 to 5.7 mmol/l). The required sample size was calculated to be 260 (130 in each arm), considering a drop-out rate of 10%.
Data were analysed for the intent-to-treat (ITT) (i.e. all randomized study participants) and per-protocol (PP) populations, excluding for the PP analysis data of individuals who had been noncompliant with the study protocol. Here we only report data from the ITT population; the PP analysis yielded similar results (see Online Resource I).
Blood lipid concentrations determined on two consecutive days before and after intervention were averaged. All averaged blood lipid concentration (baseline as well as post-intervention) were subsequently log-transformed. The effects of intervention on blood lipids and apolipoproteins were analysed with an ANCOVA model using change from baseline on a log-scale as the response. Gender, baseline, age, weight, waist circumference, use of statins and the interaction-terms between treatment and gender and statin use were included in the model as covariates but were dropped from the model if they did not contribute to the model based on the Bayesian Information Criterion (BIC) as a goodness of fit criterion.
A two-sided significance level of alpha = 0.05 was used. Treatment effects were reported as an estimate of the relative change in blood lipids (expressed as a percentage and an associated 95% confidence interval) using the placebo treatment as a reference. LSmeans of blood lipids at the end of intervention (mean Day 28 and Day 29) are reported after back transformation with confidence intervals for each treatment group. All analyses were performed with the statistical software package SAS version 9.4 (SAS Institute Inc., Cary, NC, USA).
Results
Subject characteristics and compliance
A total of 1014 individuals were screened of which 265 were included in the run-in period. Five individuals were excluded from randomization due to non-compliance and were replaced. A total of 260 individuals were randomized into the study, of whom 259 completed the study (1 drop-out). Seven study participants were deemed noncompliant with the study protocol. These seven participants were excluded from the PP population but included in the ITT population. A subject flow diagram is provided in Online Resource II. Compliance to study product intake was excellent. A total of 238 out of 259 study participants had a 100% study product compliance during the intervention period. The other 21 study participants had a study product compliance > 90%. Study product compliance did not differ between intervention and placebo. Study products were well tolerated. Baseline characteristics of the randomized study participants are given in Table
2
. Baseline characteristics did not significantly differ between the two groups.
Table 2
Subject characteristics at baseline (start of intervention)
Intervention group (

n

 = 130)

77/53

81/49

Age (years)

51.0 ± 10.0

51.6 ± 11.5

Body weight (kg)

87.3 ± 15.9

84.9 ± 15.4

Height (cm)

174.1 ± 9.9

174.4 ± 9.4

BMI (kg/m2)

28.8 ± 4.6

27.8 ± 4.1

Waist circumference (cm)

Men

99.3 ± 8.4

100.2 ± 8.4

Women

92.9 ± 11.4

87.6 ± 11.1

TG (mmol/L)

1.99 ± 0.84

1.93 ± 1.05

TC (mmol/L)

6.13 ± 0.84

6.05 ± 0.85

LDL-C (mmol/L)

4.24 ± 0.64

4.16 ± 0.58

HDL-C (mmol/L)

1.22 ± 0.27

1.24 ± 0.29
Serum lipids
After 4 weeks consumption of the spread with added PS and fish oil, serum TG concentrations were 10.6% (95% CI − 16.0 to − 4.9%;
p
 < 0.001) lower as compared to placebo. Also, serum concentrations of LDL-C (− 5.2%; 95% CI − 7.8 to − 2.4%), TC (− 3.9%; 95% CI − 6.1 to − 1.5%), non-HDL-C (− 5.4%; 95% CI − 8.1 to − 2.7%) and remnant-C (− 8.1%; 95% CI − 3.4 to − 12.5%) were significantly (
p
 ≤ 0.001) lower as compared to placebo (see Table
3
). HDL-C did not differ between the two treatment groups (1.3; 95% CI − 0.7 to 3.3%;
p
 = 0.220).
Table 3
Effects of placebo and intervention treatments on blood lipid and apolipoprotein measures
Outcome parameter

Placebo group

End-of-intervention (LS means + 95% CI)

Intervention group

End-of-intervention (LS means + 95% CI)

Absolute difference in LSMeans vs Placebo (95% CI)

Relative difference in LSMeans vs Placebo (95% CI)

mmol/L

mmol/L

mmol/L

%

TG (mmol/L)

1.85 (1.77 to 1.93)

1.65 (1.58 to 1.73)

− 0.20 (− 0.31 to − 0.09)

− 10.6 (− 16.0 to − 4.9)

< 0.001

LDL-C (mmol/L)

4.22 (4.13 to 4.30)

4.00 (3.92 to 4.08)

− 0.22 (− 0.33 to − 0.10)

− 5.2 (− 7.8 to − 2.4)

< 0.001

TC (mmol/L)

6.04 (5.94 to 6.15)

5.81 (5.71 to 5.91)

− 0.23 (− 0.38 to − 0.09)

− 3.9 (− 6.1 to − 1.5)

0.001

HDL-C (mmol/L)

1.25 (1.23 to 1.26)

1.26 (1.24 to 1.28)

0.02 (− 0.01 to 0.04)

1.3 (− 0.7 to 3.3)

0.220

Non-HDL-C (mmol/L)

4.77 (4.67 to 4.87)

4.51 (4.42 to 4.60)

− 0.26 (− 0.31 to − 0.12)

− 5.4 (− 8.1 to − 2.7)

< 0.001

Remnant-C (mmol/L)

0.54 (0.52 to 0.56)

0.49 (0.48 to 0.51)

− 0.04 (− 0.07 to − 0.02)

− 8.1 (− 3.4 to − 12.5)

0.001

ApoAI (mg/dL)

135.3 (133.6 to 137.0)

135.1 (133.4 to 136.8)

− 0.14 (− 2.53 to 2.25)

− 0.1 (− 1.8 to 1.7)

0.905

ApoAII (mg/dL)

40.1 (39.3 to 40.8)

38.9 (38.1 to 39.6)

− 1.17 (− 2.24 to − 0.10)

− 2.9 (− 5.5 to − 0.2)

0.033

ApoCII (mg/dL)

5.4 (5.2 to 5.6)

5.2 (5.0 to 5.4)

− 0.17 (− 0.43 to 0.09)

− 3.2 (− 7.8 to 1.6)

0.190

ApoCIII (mg/dL)

13.9 (13.4 to 14.4)

12.8 (12.4 to 13.3)

− 1.08 (− 1.73 to − 0.43)

− 7.7 (− 12.1 to − 3.1)

0.001

ApoE (mg/dL)

12.1 (11.8 to 12.4)

12.1 (11.8 to 12.4)

0.02 (− 0.40 to 0.44)

0.2 (− 3.2 to 3.7)

0.923

ApoB (mg/dL)

99.7 (97.7 to 101.8)

96.5 (94.6 to 98.5)

− 3.18 (− 5.99 to − 0.37)

− 3.2 (− 5.9 to − 0.4)

0.027

ApoB/ApoAI (mg/dL)

0.74 (0.72 to 0.75)

0.72 (0.70 to 0.73)

− 0.02 (− 0.04 to 0.00)

− 2.7 (− 5.5 to 0.3)

0.075
Apolipoproteins
The results of the apolipoprotein analyses are also presented in Table
3
. In short, the intervention resulted in significantly lower concentrations of ApoAII (− 2.9%; 95% CI − 5.5 to − 0.2%), ApoCIII (− 7.7%; 95% CI − 12.1 to − 3.1%) and ApoB (− 3.2%; 95% CI − 5.9 to − 0.4%) concentrations as compared to placebo. There were no statistically significant treatment effects on ApoAI, ApoCII, Apo E or ApoB/ApoAI.
Adverse events
A total of 67 adverse events (AEs) were reported in 56 study participants, of which 30 were reported in the group that received the intervention product. Most AEs were not related to study product and/or procedures, only seven of the AEs were unlikely related, and one AE was judged by the investigator as possibly treatment related, i.e. diarrhoea on one morning during the placebo run-in phase. Most common reported AEs were headache and common cold.
Discussion
This intervention study showed that consumption of a low-fat spread delivering 1.0 g/day of EPA and DHA from fish oil together with 2.0 g/day of PS significantly lowered serum TG as well as serum LDL-C, TC, non-HDL-C and remnant-C concentrations, as compared to placebo, in a population with elevated LDL-C and borderline-high to high TG concentrations.
Our findings confirm that consumption of a spread containing a recommended dose of PS and low doses of EPA + DHA can help lower both TG and LDL-C concentrations confirming that this dietary approach can contribute to maintaining low TG and LDL-C concentrations and thus to reducing the risk of developing CVD.
The major strength of the current study was the randomized, double-blind, placebo-controlled study design and with 260 the large number of participants included in this study, making this one of the largest intervention studies investigating the combined effect of PS and EPA + DHA. It is important to realize that this study was performed in a generally healthy population with moderate to high baseline TG concentrations and elevated LDL-C concentrations. Hence, effect sizes may differ in populations with other baseline lipid values. A limitation of this study is that we did not collect dietary intake data prior and during the study. Though randomization of the subjects to treatment should have removed potential confounding by the background diet, we cannot exclude that other differences in dietary intake confounded the results. Another limitation is that this study was not designed to distinguish the effects of EPA/DHA and PS on TG-lowering. Furthermore, as discussed above, we cannot exclude that small differences in the fatty acid compositions of the placebo and intervention spreads have affected blood lipid concentrations.
In conclusion, the regular intake of a low-fat spread with 2.0 g/day PS and 1.0 g/day EPA/DHA over 4 weeks led to a significant and clinically relevant dual blood lipid benefit based on a decrease of 10.6% in TG and 5.2% in LDL-C, in healthy individuals with modestly elevated blood TG and LDL-C concentrations. This dietary approach could therefore contribute as part of a healthy diet and lifestyle to maintaining low TG and LDL-C concentrations and so help manage the risk of developing CVD.
Acknowledgements
We thank the volunteers who participated in the study, staff at Charité Research Organization in Berlin who performed the study, Christian Keicher, MD, Dr. Susanne Schäffer and Dr. Quirino Schefer and all other Charité staff who assisted in the organization and reporting of the study. We would also like to thank Marijke Meijer and Jeroen Sterken for their help with respect to the study products and Rouyanne Ras for her input to the manuscript. The study was funded by Unilever BCS Research and Development Vlaardingen, the Netherlands.
Compliance with ethical standards
Conflict of interest
The authors, W.A.M.B., W.P.K., H.H. and E.A.T. were all employed by Unilever, the sponsor of this study, when the study was performed. T.S. and H.S. declare that they have no conflict of interest.
Ethical Standards
The study was approved by an independent ethics committee (Ethikkommission Ethikausschuss 1 am Campus Charité—Mitte, Germany) and was conducted in accordance with applicable laws and regulations including, but not limited to, the International Conference on Harmonization (ICH), Guideline for Good Clinical Practice (GCP) and the ethical principles that have their origins in the Declaration of Helsinki. The study was registered at clinicaltrials.gov (NCT 02728583). All participants gave their written informed consent prior to their inclusion in the study.
Open Access
This article is distributed under the terms of the Creative Commons Attribution 4.0 International License (
http://​creativecommons.​org/​licenses/​by/​4.​0/​
), which permits unrestricted use, distribution, and reproduction in any medium, provided you give appropriate credit to the original author(s) and the source, provide a link to the Creative Commons license, and indicate if changes were made.