01.12.2011 | Research | Ausgabe 1/2011 Open Access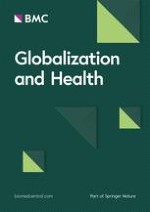 'A major lobbying effort to change and unify the excise structure in six Central American countries': How British American Tobacco influenced tax and tariff rates in the Central American Common Market
Zeitschrift:
Autoren:

Chris Holden, Kelley Lee
Wichtige Hinweise
Competing interests
The authors declare that they have no competing interests.
Authors' contributions
CH conceived of the study, searched, analyzed and interpreted documents, wrote the first draft of the manuscript and revised subsequent drafts. KL helped to conceive of the study, contributed to the analysis and interpretation of findings and helped to edit the manuscript. Both authors read and approved the final manuscript.
Background
This article therefore has two interlinked aims: first, to ascertain how BAT attempted to influence public policy in relation to the process of regional trade integration in the CACM; and, second, to ascertain how that process led BAT to adapt its own operations. The article draws conclusions regarding the need for closer attention to regional trade integration in tobacco control.
Methods
This study analysed internal tobacco industry documents available from the Legacy Tobacco Documents Library at
http://​legacy.​library.​ucsf.​edu/​
. The release of these documents in 1998 allowed researchers unprecedented access to the inner workings of TTCs, their strategies and attempts to influence public policy [
14
]. The provenance and limitations of the documents have been discussed elsewhere [
15
–
19
]. Limitations include the fact that the legal process did not result in a comprehensive set of all company documents being made available [
15
]. For example, BAT documents do not include those of its subsidiary companies outside of the UK and the US. However, a vast range of correspondence between BAT headquarters and its subsidiaries is available, sufficient to allow an extensive analysis of corporate strategy in a large number of areas.
Documents were initially retrieved by searching BAT documents using the key search terms 'Central American Common Market' and 'CACM'. Resultant documents were then used to generate new search terms in an iterative process. Analysis was based on an approach to company document analysis adapted from Forster [
20
] and complemented by strategies for interpreting archival material recommended by Hill [
21
]. This involved attempting to understand the meanings of individual documents and relating these to other documents in the set, identifying the central themes of documents and clusters of documents, contextualising the documentary data, and choosing representative material in order to present findings. Reliability of interpretation was increased by both authors participating in the interpretative process, agreeing on central themes and selecting appropriate material to quote. Results are presented thematically and, within each central theme, chronologically.
Analysis of the documents revealed that BAT's attempts to influence public policy in relation to the regional integration process related overwhelmingly to tax and tariff rates. The analysis also confirmed that the integration process had a significant impact on BAT's structure within the region, particularly in relation to manufacturing operations. Results related to these key themes of tariff rates, excise taxes, and the reorganisation of operations are reported below.
Results
'Ready access and close contact with government officials': Influencing tariff rates
In October 1991, a report was circulated within BAT on the CACM which outlined developments in the negotiations among member countries to create a common market [
22
]. The document discussed the goal of creating a customs union, with a common external tariff and the abolition of tariffs between member countries, although it noted that at that time no specific proposals had been made to remove tariffs between member states. The report's analysis of member countries' current tariff rates on cigarettes imported from outside the CACM concluded that the proposed common external tariff of 20% would 'effectively halve the amount of protection given to domestic cigarette manufacture' [
22
].
For BAT, the proposed external tariff rate was a problem as the Central American market would then 'become more attractive to overseas manufacturers' [
22
]. One strategy identified to protect the company's market share was to move from its then current structure, whereby cigarettes were manufactured separately in each country by national operating companies, to a regional structure whereby manufacturing was carried out by 'one or two processing and manufacturing complexes supplying the six member states with cigarettes' [
22
]. However, to function efficiently, this would require the abolition of customs duties among member states. The report concluded that the best scenario, from BAT's point of view, would be 'a single market without internal customs duty tariffs but with a high external duty tariff on cigarettes ... That would provide the best condition for rationalisation of processing, manufacture and supply with protection against imports' [
22
]. A later report noted that, although this would also give PM 'further opportunities' to expand through the supply of the Honduran and Nicaraguan markets from Costa Rica, Guatemala or El Salvador, BAT would be able to respond on the basis of its 'marketing knowledge, local experience and... ability to offer superior product quality and financial muscle'[
23
].
Documents describe how BAT envisioned its goals were to be achieved by having cigarettes that were imported from outside the CACM placed on a list of products to be given special treatment and which would thus be allowed to have a tariff higher than 20%. However, the lower tariff of 5% was preferred by BAT for raw materials and goods used in the manufacture of cigarettes, given the need for the company to import these cheaply. BAT saw it as crucial that 'internal trade barriers be removed before the reduction in external tariffs'. If this were not the case, its national operating companies would face outside competition before being able to rationalise their manufacturing operations along the lines described above. Operating companies were to lobby both the CACM's permanent secretariat, the Secretariat for Central American Economic Integration (SIECA), and 'local' (i.e. national) ministers, 'arguing that the reduced external tariffs would threaten a long established regional industry that is not only a substantial provider of employment, but also an increasingly important generator of foreign exchange'[
22
].
Access to government: Nicaragua
As a major company and employer in the countries of the CACM, the extent of access that BAT had at this time to governments in the region is evinced by a visit Sir Patrick Sheehy (BAT Chairman) and his wife paid to Nicaragua in April 1991. After the visit, they expressed their pleasure at having met Mrs Violeta Chamorro (President of Nicaragua), 'and so many members of the government' [
24
]. By January 1992 the company was already making progress, with a reduction in excise in Nicaragua from 42% of retail sale price (RSP) to 40% and an increase in the selective consumption tax which Nicaragua levied on imported cigarettes from 60% to 75%. It was reported by Keith Dunt (BAT Regional Director for Latin America) that the former 'represents at first calculation US$1.2 million extra contribution in 1992', presumably to company revenue, whilst the latter 'puts us on a par with product imported from Central America and has an advantage on product imported from outside Central America' [
25
] (BAT's attempts to influence excise taxes are discussed more fully below).
Access to government: Costa Rica
Documents suggest a similarly close relationship between BAT and the Costa Rican government. A March 1992 report described meetings with the Ministry of Exports and the Ministry of Economy where employees of BAT's Costa Rican subsidiary, Republic Tobacco, were informed about the negotiating positions of other CACM countries and even given advice on how to lobby them [
26
]. Named Guatemalan officials had opposed the 5% common external tariff on acetate tow (purified wood pulp used in cigarette filters) and cigarette paper, which BAT supported at this low rate as an importer of these inputs. It was reported that, 'Local [Costa Rican] authorities recommended strong lobbying [by BAT] in Guatemala on this issue', whilst Republic Tobacco would 'continue our lobbying efforts with members of the Costarican (sic) Negotiating Group' [
26
]. A technical meeting attended by all the CACM Directors of Integration was due to be held at the end of March or beginning of April, which was seen as 'an excellent opportunity to discuss this issue', and Republic Tobacco was preparing a presentation to be given to the Ministry of the Economy prior to this meeting [
26
]. The document also described the issue of imported tobacco additives (casings and flavours) for which an El Salvadoran representative was insisting on a 10% tax. Again, 'local [Costa Rican] authorities suggested strong lobbying' of the Director of Economic Integration in El Salvador to remedy this [
26
]. In September 1992 it was reported that 'the CACM negotiators approved the request of the Local Tobacco Industry to reduce from 10% to 5% the taxes on cigarette paper, filter tipping, plugwrap, casings and flavours'[
27
].
Coordinating lobbying efforts
As part of its strategy to influence tariff rates, BAT set up an 'information exchange' across all of its Latin American companies, so that data on the 'rapidly evolving and indeed changing CACM tariff regime' could be circulated on a weekly basis [
28
]. National operating companies were instructed to 'report active intelligence through contacts in governments and trade organisations, however tentative this might be', while general managers were asked to 'ensure that a proactive stance in lobbying was developed and a positive programme developed for each company'[
29
]. Guidance given to Republic Tobacco suggested that, in preparing its case for 'bureaucratic and government officials involved in negotiations for CACM treaty terms', each company or industry NMA (National Manufacturers' Association) 'should itemise what is at risk on the local scene and state that cheap [cigarette] imports would not be dissuaded by the 20% import tariff... and this therefore would mean a loss of foreign exchange as the economies of scale outside give significant lower costs of production'[
30
].
More detailed advice followed in which the need to 'lobby strongly' on tariff levels and to give the matter 'priority in any discussions with Government' was emphasised [
31
]. Among the key arguments to be used were that the 'cigarette industry makes a significant contribution to Government revenues', with the instruction that this should be 'quantif[ied] in any discussion', and that the 'collection of Government revenue through the domestic cigarette industry is secure and timely - this would not be the case if imported cigarettes both duty paid and duty not paid begin to penetrate your domestic market'[
31
]. It was suggested that the European Community be used as a comparison, since at the time it had 'a common external tariff of 90% for imported cigarettes' [
31
]. It was further instructed that governments should be presented
with clear worked examples demonstrating that with such low international prices and with a tariff structure of only 20%, the future of domestic cigarette manufacturing rapidly becomes unviable. Domestic duty paid cigarettes would soon be unable to compete with imported cigarettes either on price or quality. The impact of this scenario
on the Government
must be stressed:
e.g. - outflow of foreign exchange with increased imports
less reliable collection of revenue

lower revenue as cigarette prices fall

impact on employment within the industry and to tobacco growers and local suppliers since there will be less demand for leaf and other services for domestic purposes. [[

31

], emphasis in original]
Regional coordination of lobbying efforts was increased still further in October 1992 at a public affairs coordination meeting. It was decided that all public affairs managers in the region should send to Republic Tobacco details of all taxes being paid on raw materials. From this information, a list would be prepared of 'all raw materials with taxes above 5% to coordinate lobbying efforts in the region' [
32
]. BAT headquarters at Millbank in London was to prepare 'a position paper on the route to follow on tax harmonisation' [
32
]. The circulation of information was deemed insufficient, sometimes involving the simple circulation of summaries of newspaper articles. This was to be remedied by ensuring that public affairs managers obtained 'first hand information directly from the sources in order to have updated information and closer links for effective lobbying' [
32
]. In order to 'ensure a regional approach for effective lobbying, it was agreed that a coordinator for CACM countries would be appointed by Millbank' [
32
].
Targeting tariff rates
Documents describe how BAT was heavily involved in this process, with consistent access to relevant government ministers. The extent of this access is summarised in a 1993 'Public Affairs Review' in which managers of BAT's various Central American subsidiaries described 'the overall status of... government relations' as follows:
Costa Rica: We have ready access and close contact with government officials at all levels.
El Salvador: Good government relations with Ministers (Economy and Treasury), Congressmen (party leaders), Ministry technicians.
Guatemala: Very good relations. General Manager and Public Affairs Manager know most Officials and Ministers personally. This includes the President and Vice President of the Republic.
Honduras: The government has an excellent opinion of TAHSA [the BAT subsidiary]. The President of the Republic visited us some months ago and expressed his sympathy for the way we conduct business. When PA Manager has asked for benefits from the Government, the answer has usually been positive. I would say the relations are excellent.
'Continuing our aggressive lobbying campaign at all government levels': Influencing excise taxes
May 24: Bingham to draft out the position paper and send to all GM's [general managers] and Finance Directors (to be sent on 24/5).
May 28: Rosales to adapt Bingham position paper to the sensitivities of the region and issue to all CACM countries.
June 5: Each Op Co [operating company] to prepare a national position paper based upon the overall paper but including appropriate national aspects.
By November 1994 documents describe BAT's lobbying campaign showing results:
Reorganising BAT's operations
BAT's strategy in response to the CACM integration process had two crucial components, each of which was necessary in order to allow the other to work effectively. As described above, the first was the maintenance of a high common external tariff for cigarettes, a low common external tariff for leaf and other inputs into the production process, and low or non-existent internal tariffs between member countries. The second component was the rationalisation of its operations to take advantage of regional economies of scale. The first component was crucial to the working of the second, since high external tariffs on cigarettes were necessary to protect its regional dominance from outside competition, whilst the lowering or removal of internal tariffs resulting from the integration process created an opportunity to take advantage of economies of scale, by reducing the number of production centres and distributing from them to the other countries of the region. Importantly, successful implementation of this second component was necessary to enable BAT to compete effectively with PM, which would also be protected by higher external tariffs and advantaged by the larger economies of scale afforded by the reduction of internal tariffs. The latter was particularly important for PM, which could now potentially challenge BAT in those CACM countries where it had no production facilities, through cheap imports from other CACM countries. BAT's assessment of PM's likely strategy was as follows:
Discussion
The documents reviewed in this article demonstrate the degree of access BAT had to decision-makers in Central American countries during negotiation of the CACM and, in particular, the extent to which it was able to influence decisions on tariff rates and excise taxes. Furthermore, the company was able to exploit its multinational character to act in a coordinated way across the member countries of the CACM. Through these means, BAT was able to have the tariff rate for cigarettes imported into CACM countries set higher than would otherwise have been the case, and to play a key role in harmonising excise taxes across member countries. It did this by utilising high-level contacts with politicians and key officials, pooling information across national units in the region, and stressing the importance of the company to employment, tax revenues and foreign exchange within each country. Each national operating company was given strong central direction by the regional management at BAT headquarters to ensure that lobbying was conducted in a coordinated way around these core arguments.
Whilst the degree of access to governments and officials in the countries and institutions of the CACM is striking, it is consistent with previous studies of TTC policy influence in a number of other settings. Indeed, the degree of such access and the extent to which policy makers appeared to take for granted the importance of the industry to their economies may have made some of the tactics used elsewhere unnecessary. For example, we found no evidence in the documents we reviewed of donations to political parties or legislators' campaigns, although it is important to note that the documents of BAT's Central American subsidiaries, other than correspondence with its UK companies, were not available. Furthermore, information on these matters from official sources is not as widely available in the countries concerned as it is in the US and we could not therefore verify from other sources whether such donations had been made. What is of particular note in this case is the degree to which BAT was able to act transnationally in a coordinated manner across all the CACM countries simultaneously and the way in which central direction of the various operating companies was used to gather intelligence and ensure consistency and optimum timing in the messages communicated to governments.
While it was making its arguments to governments, documents show that the company began to reorganise its own operations to take advantage of the economies of scale afforded by the reduction of internal tariffs within the CACM, protected by high external cigarette tariffs, in a manner that benefited the company on a regional basis rather than any particular country. In direct contradiction to the arguments presented to CACM governments that affording the tobacco industry protection via high tariffs would safeguard employment, the company's regional reorganisation involved the loss of hundreds of jobs.
This loss of employment was a logical component of the company's strategy of regional rationalisation which it was planning even whilst it was lobbying governments on the basis of protecting jobs. In fact, this rationalisation is in keeping with the logic of regional trade integration itself, which depends for its envisaged efficiency enhancing effects in part upon the economies of scale facilitated by the abolition or reduction of internal tariffs, and BAT's behaviour in this respect was mirrored by PM, with which it had to compete. CACM member governments themselves would presumably have anticipated such processes in at least some industrial sectors, which perhaps explains why BAT thought the process would be 'accepted as commercially justified'. Nevertheless, it took concerted action to manage the 'political implications' of the rationalisation process and put in place substantial contingency plans in case of labour unrest.
With the process of regional trade integration within the CACM being one of many set in train during the 1990s, BAT strategy within the CACM has significance beyond Central America. Indeed, BAT documents identify such processes as a crucial factor leading the company to reorganise globally in the 1990s, so that it might act in a more coordinated manner across countries to increase worldwide sales and thus consumption of its cigarettes [
2
].
However, this article suggests the company's activities in no way indicate an ideological commitment to any general process of liberalisation. Rather, findings indicate that BAT's responses to processes of regional integration have been purely instrumental; that is, it has acted in whatever manner would most protect and advance the company's interests in a specific context. In the CACM, this meant pressing for higher external tariffs for cigarettes, low tariffs for imported inputs necessary for cigarette production, and an excise tax system that best fitted its interests. This is consistent with its behaviour in other settings. In Uzbekistan, for example, the company sought protective tariffs, an excise system that benefited it rather than its competitors, and other anti-competitive measures [
4
,
70
]. It is different, however, to its behaviour in the Andean Pact, where similar processes of regional trade integration led the company to recognise that it had failed to effectively coordinate imports into countries where it did not have production facilities, subsequently leading it to reorganise these activities in that region and across Latin America [
2
]. In East Asia in the 1980s and 1990s, US-based TTCs (including BAT's American subsidiary Brown & Williamson) pressed hard for liberalisation in a number of countries in order to gain access to markets from which they were excluded [
71
]. In the CACM, emphasis was also placed on coordinated action across the region. However, as BAT had a factory in each member country, it sought to gain regional economies of scale from the rationalisation of production within the region. In contrast to Asia in the 1980s and 1990s, the company pushed for high external cigarette tariffs because it already dominated the region and wished to protect its market share. Whilst these findings confirm previous analyses that TTCs regularly attempt to influence trade policy, they suggest that responses to liberalisation processes across companies and contexts are not uniform. These different responses indicate the need for further research to better understand the strategies of particular tobacco companies in seeking to influence trade policy in other regional trade negotiations such as those of the Common Market of the South (Mercosur), the North American Free Trade Agreement (NAFTA) and the Association of South East Asian Nations (ASEAN) Free Trade Area (AFTA).
Although a significant number of documents arising from correspondence between BAT's UK companies and its Central American subsidiaries were available through the Legacy Tobacco Documents Library, the study was limited by gaps in the available documents, particularly those of the company's Central American subsidiaries. Similarly, a relatively small number of documents relevant to the study were available after 1995. This meant that it was not possible to ascertain how the issue of tariff ceilings was resolved within the GATT or how the harmonised excise structure agreed by the CACM vice-ministers of finance in September 1995 progressed.
Conclusions
Effective responses to protect public health require a fuller understanding of the complex dynamics between tobacco and trade policy. Existing analyses of this relationship have largely focused on the role of trade liberalisation in increasing competition and therefore the consumption of cigarettes. This article indicates that trade liberalisation at the regional level can have quite different impacts on market structure and strategy. The impact of regional trade integration on tariff and tax rates, manufacturing operations and corporate organisation within the tobacco industry has not been widely studied, yet is integral to the transnational behaviour of tobacco companies and their capacity to continue to thrive in a rapidly changing world economy. The need to better understand this dimension of trade and tobacco is especially important given the shift in trade negotiations following the stalling of the Doha Round from multilateral (i.e. the World Trade Organisation) to regional and bilateral venues.
Regional integration organisations and their member states should be wary of the capacity of TTCs to influence negotiations in ways that serve corporate, rather than member state, interests. These findings also suggest the need to ensure that public health goals are adequately coordinated at the regional level. This could be achieved, for example, by addressing regional trade integration at regional and subregional workshops on the implementation of the decisions of the Conference of the Parties of the Framework Convention on Tobacco Control (FCTC) [
72
]. Through such mechanisms, measures for countering the region-specific strategies of TTCs, such as those focused on taxation and tariff rates, could then be developed.
Acknowledgements
This research was supported by funding from the National Cancer Institute, US National Institutes of Health, Grant Number R01 CA91021. The Wellcome Trust provided KL with additional funding towards the creation of the British American Tobacco Document Archive (BATDA) from which industry documents for this research were drawn. We would like to thank Jingying Xu for her help in sorting the documents.
This article is published under license to BioMed Central Ltd. This is an Open Access article distributed under the terms of the Creative Commons Attribution License (
http://​creativecommons.​org/​licenses/​by/​2.​0
), which permits unrestricted use, distribution, and reproduction in any medium, provided the original work is properly cited.
Competing interests
The authors declare that they have no competing interests.
Authors' contributions
CH conceived of the study, searched, analyzed and interpreted documents, wrote the first draft of the manuscript and revised subsequent drafts. KL helped to conceive of the study, contributed to the analysis and interpretation of findings and helped to edit the manuscript. Both authors read and approved the final manuscript.