01.12.2014 | Original Research | Ausgabe 4/2014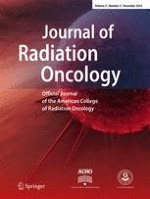 A mechanical eyeball phantom for uveal melanoma radiosurgery by cyberknife
Zeitschrift:
Autoren:

Hairong Chen, Xiaodong Wu, Georges F. Hatoum, Alejandro Gonzalez, Ricardo Garcia, Weizhao Zhao
Abstract
Objective
A treatment option for uveal melanoma has been investigated using the Cyberknife system, due to its advantage of real-time image guidance during therapy. However, unpredictable eyeball movement imposes challenges to the state-of-art technology. As a solution, we derived a 2D/3D transformation algorithm that is based on the pupil's 2D coordinates captured by an optical tracking system to predict the tumor's 3D positions in real-time. In order to validate our developed algorithm and other methods, a mechanical phantom that can simulate the eyeball's movement is highly desirable.
Methods
We designed a mechanical phantom that consists of a camera module, an eyeball module with an embedded "tumor", an eyeball holder module, and an eyeball moving module. All materials are made with acrylic or nylon plastics with the exception of the linear motion stages and the camera.
Results
In the calibration procedure, the phantom is scanned using a CT scanner. By using the recorded pupil's coordinates and extracted tumor coordinates, the 2D/3D transformation model yields 0.39 ± 0.09 mm root-sum-squared error for five calibration positions between the actual 3D coordinates and the predicted coordinates. In the validation procedure, the eyeball is rotated to 11 different positions through the mechanical phantom. The 2D/3D transformation model yields 0.58 ± 0.27 mm root-sum-squared error for these positions between the Cyberknife-identified 3D coordinates and the predicted coordinates. The eyeball's position can be controlled within millimeter accuracy.
Conclusion
The designed mechanical phantom is suitable for validating image-guided radiosurgery methods. Further dynamic evaluations can confirm these methods for clinical applications.