01.12.2018 | Case Report | Ausgabe 1/2018 Open Access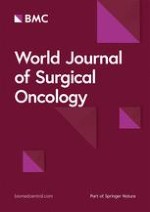 A metastasized hepatocellular carcinoma in the capsule of an undescended testis in the right inguinal area: report of a rare case
Zeitschrift:
Autoren:

Qianhui Li, Xiuying Shi, Chuifeng Fan
Abstract
Background
Hepatocellular Carcinoma (HCC) is the most common primary carcinoma of the liver, which mainly metastasizes through the portal vein system.
Case presentation
Here, we report an extremely rare case in which HCC metastasized to the capsule of an undescended testis in the right inguinal area of the patient. A tumor approximately 8.8 × 7.0 cm in size was found in the patient's liver during a health check-up. Initially, it was considered a metastatic tumor because the patient was found to have cryptorchidism, which had been left untreated before he presented to our hospital. The patient underwent a radical orchiectomy via inguinal approach, and the resected testis in the right inguinal region was examined via microscopy. The cancer cells were arranged in nests and showed abundant red or clear cytoplasm and marked nuclear atypia. Immunohistochemical staining showed that the tumor cells were positive for CK, CK8/18, AFP, hepatocyte, GCP3, but negative for PLAP, CD10, CD30, CD34, and vimentin.
Conclusion
According to these findings, the tumor in the inguinal region was considered a metastatic HCC arising from the liver, rather than a seminoma that had originated in the undescended testis. We suggest that during the diagnosis of malignancies, metastatic tumors should always be considered in the differential diagnosis even if the original presentation is at rare metastatic sites or concurrent with other disease(s).