01.12.2017 | Case report | Ausgabe 1/2017 Open Access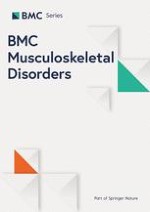 A misdiagnosed case of osteoid osteoma of the talus: a case report and literature review
Zeitschrift:
Autoren:

Huan He, Hailin Xu, Hao Lu, Yu Dang, Wei Huang, Qing Zhang
Abstract
Background
Osteoid osteoma (OO) is a common benign bone tumour that is rarely found in the talus. Its nidus is difficult to detect on early imaging. The atypical symptoms of OO and the presence of concurrent trauma or sports injuries may lead to misdiagnosis and delayed treatment. We herein analyse a case of misdiagnosis of OO of the talus and discuss how to improve the early diagnosis of this rare lesion, thereby permitting rapid treatment.
Case presentation
A 23-year-old man with a history of left ankle sprains and chronic pain was diagnosed with another ankle sprain and managed conservatively based on normal X-ray findings. After 1 year of recurring pain, he was diagnosed with ankle traumatic arthritis and underwent arthroscopic surgery. His preoperative ankle X-ray findings were still normal, and magnetic resonance imaging at that time demonstrated bone marrow oedema of the left talus. His symptoms reappeared shortly after surgery and progressively worsened. Magnetic resonance imaging performed 3 months after surgery demonstrated widespread bone marrow oedema of the talus. The patient presented to our hospital for pain assessment and was diagnosed with OO of the talus 3 years after his symptoms began. Preoperative computed tomography (CT) demonstrated a typical nidus of OO of the talus. After a second surgery, the patient's symptoms completely resolved, and pathologic examination confirmed that the lesion was OO. The patient recovered 3 months later and was able to walk normally.
Conclusions
OO of the ankle joint exhibits a progressive course and is difficult to diagnose at an early stage. Patients with OO of the talus often have atypical imaging findings, no signs of ankle instability, and no anterior talofibular ligament tenderness. CT is valuable for diagnosing OO, although multiple CT scans may be required to detect the nidus. Proper imaging helps doctors to achieve the correct diagnosis early in the disease course, significantly shortening the treatment cycle and improving the patient's quality of life.