13.02.2019 | Technical Note | Ausgabe 2/2019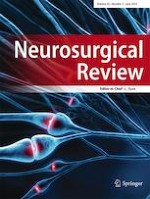 A modified microsurgical interfacet release and direct distraction technique for management of congenital atlantoaxial dislocation: technical note
Zeitschrift:
Autoren:

GuoSong Shang, Tao Fan, Zhe Hou, Cong Liang, YinQian Wang, XinGang Zhao, Wayne Fan
Wichtige Hinweise
Tao Fan and GuoSong Shang contributed to the work equally and should be regarded as co-first authors.
Publisher's note
Springer Nature remains neutral with regard to jurisdictional claims in published maps and institutional affiliations.
Abstract
Various techniques have been used for management of congenital atlantoaxial dislocation. Recently, the reduction of atlantoaxial dislocation through a single posterior approach has attracted more and more attention. Here, we present a modified technique including direct interfacet release and distraction between C1 and C2 by a specially designed distractor, posterior internal fixation and bone graft fusion. The illustrated technique was performed in 15 consecutive patients, and the outcomes were recorded and analyzed. Follow-up ranged from 12 to 26 months. Clinical symptoms improved in 14 patients (93.3%) and were stable in 1 patient (6.7%). Radiologically, 60–100% reduction was achieved in 13 patients (86.6%). Bone fusion was obtained in all patients at 12 months after the operation. The two-tailed Wilcoxon signed-rank test was used to analyze the preoperative and postoperative Japanese Orthopedic Association scores (JOA), atlas-dens interval (ADI), and cervicomedullary angle (CMA) (
P
 < 0.001). Our results suggested that this direct interfacet release and distraction technique with a specially designed C1–2 distractor can provide a definite effective C1–2 facet distraction and odontoid process restoration through a single posterior approach.