24.10.2017 | Original Research Article | Ausgabe 6/2017 Open Access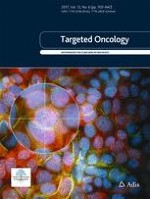 A Multi-Arm Phase I Study of the PI3K/mTOR Inhibitors PF-04691502 and Gedatolisib (PF-05212384) plus Irinotecan or the MEK Inhibitor PD-0325901 in Advanced Cancer
Zeitschrift:
Autoren:

Zev A. Wainberg, Maria Alsina, Heloisa P. Soares, Irene Braña, Carolyn D. Britten, Gianluca Del Conte, Patrick Ezeh, Brett Houk, Kenneth A. Kern, Stephen Leong, Nuzhat Pathan, Kristen J. Pierce, Lillian L. Siu, Jennifer Vermette, Josep Tabernero
Wichtige Hinweise
Electronic supplementary material
Abstract
Background
This phase I, four-arm, open-label study (NCT01347866) evaluated the PI3K/mTOR inhibitors PF-04691502 (arms A, B) and gedatolisib (PF-05212384; arms C, D) in combination with the MEK inhibitor PD-0325901 (arm A, D) or irinotecan (arm B, C) in patients with advanced solid tumors.
Objectives
Primary endpoint was dose-limiting toxicity with each combination. Secondary endpoints included safety, pharmacokinetics and preliminary antitumor activity.
Patients and Methods
Dose escalation followed a 3 + 3 design in arm C and a zone-based design in arm D.
Results
The PF-04691502 combination arms were closed prematurely due to low tolerability, and the maximum tolerated doses (MTDs) were not determined for either arm. The MTD for the combination of gedatolisib with irinotecan 180 mg/m
2
was estimated to be 110 mg weekly and for the combination with PD-0325901 was not reached at the highest dose evaluated (gedatolisib 154 mg weekly). Plasma concentrations of gedatolisib were generally similar across dose groups in arm C (with irinotecan) and arm D (with PD-0325901). Frequent dose delays or dose reductions were required for both combinations, potentially preventing sustained therapeutic drug concentrations. Gedatolisib plus irinotecan produced a response rate of ~5% and clinical benefit in 16% of patients with advanced colorectal cancer (progression-free survival, 2.8 months). Preliminary evidence of clinical activity was observed with gedatolisib plus PD-0325901 in patients with ovarian cancer (three partial responses,
n
= 5) or endometrial cancer (one partial response,
n
= 1) and
KRAS
mutations.
Conclusions
Further evaluations of gedatolisib are warranted in patients with advanced solid malignancies.
×